This page describes a room I had in my house at Wantadilla in the Adelaide Hills. We moved out of Wantadilla in July 2007, so this is history.
Those of you who live in Adelaide may remember Mike Smith, also known as mith, who left for a year in the USA in early 1998, and decided to stay. On leaving, he discovered that nobody wanted to buy a lot of what he was leaving behind, so instead of throwing it away, he put it in my shed. I was planning to build an extension anyway, so I was quite happy to have some of his old hardware in addition to my own. When we finished the extension, much of his stuff ended up in the back room, including old furniture, so I decided to call the room the "Mike Smith Memorial Room."
In the course of time, the contents changed, and now only a minority of the items have any relationship with Mike, but the name has stuck. Mike himself has left the FreeBSD project and works for Apple Computer.
Here are some photos as of mid-December 2003: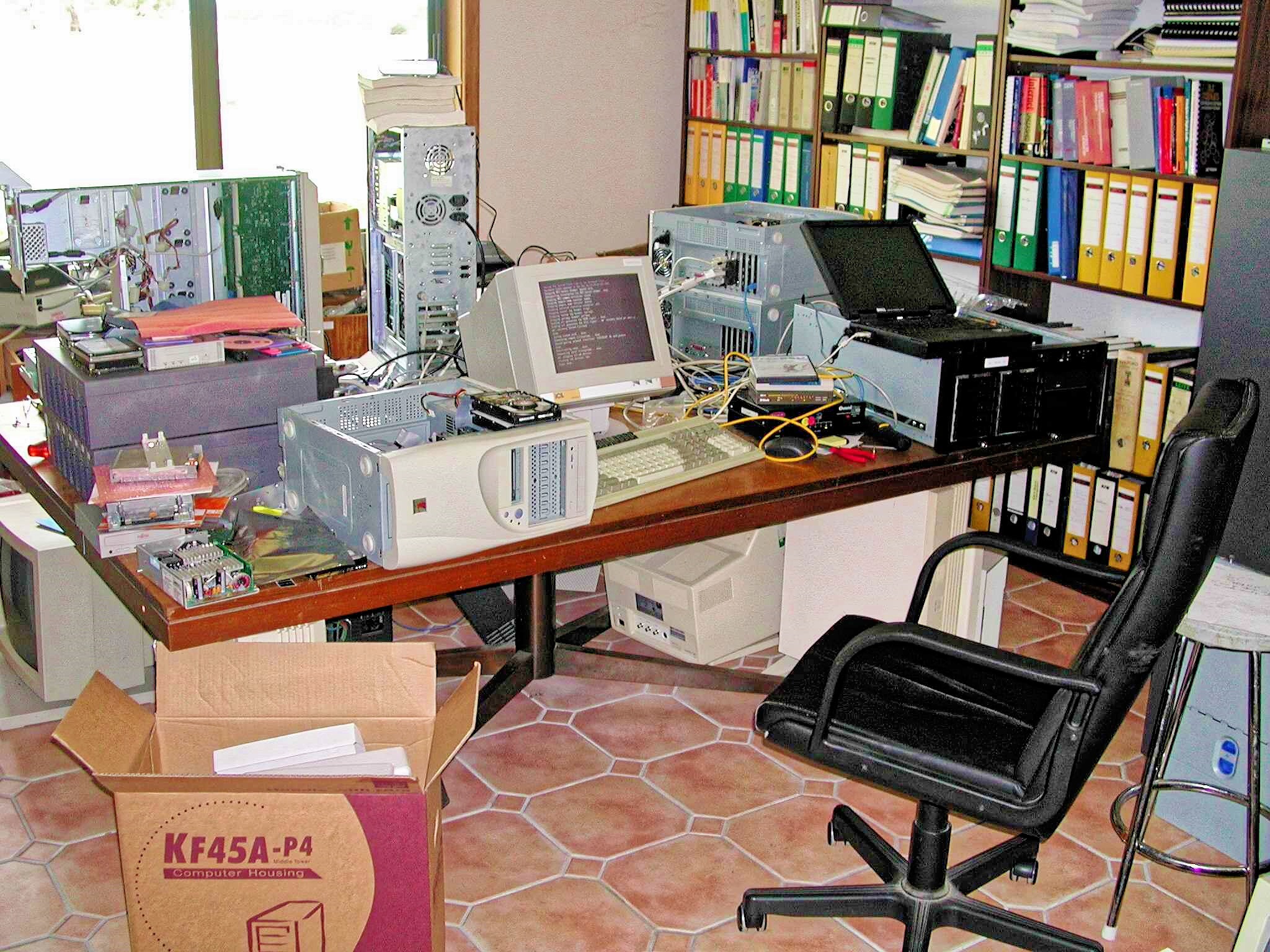 This is the main work area. In the foreground on the left is a test machine which normally runs FreeBSD (in which case it's called monorchid) or NetBSD (in which case it's called daikon). Behind that are two trays of 7 SCSI disks from my Sun SS 200 disk array, and behind that is a partially dismantled DEC Alpha server. On the very corner you can see an opened power supply from the disk trays: they keep dying, and most are now dead.
The monitor is an ancient ICL Alfaskop, and the keyboard an even older (but still very good) Northgate OmniKey Plus. To the right of that are a Belkin KVM, a 100 MB/s switch and a 10 Mb/s hub. On the extreme right is a machine from Internode which I'm testing at the moment. On top of that is a Dell Inspiron 7500 machine, sydney (the project name of that machine), which I use for kernel debugging. Behind that are two dual processor Celeron machines. The one at the top is called zaphod, and I'm not currently using the one below.
At the rear of the table is kimchi, a NetBSD box and part of the Samba build farm. The books on top are the first three collected annual volumes of Dr Dobbs Journal, and on top of that is a wireless hub which runs Linux and has the distinction of having the most buggy firmware I have ever used.
The monitors under the table are ancient. You can also see a couple of Apollo workstations, like the monitors courtesy of Mike Smith, in the corners.
The following photos show details of this table.
A close-up of the left-hand side.
The labels on monorchid (or daikon) contain details of what is on which partition. In the bookshelf are a number of disks for the disk trays, along with far too many defective power supplies. The keyboards are additional Northgate OmniKey PLUS. The printed circuit board at extreme top left is part of an 8 inch floppy drive.
This view shows the SS 200 cabinet, which is effectively empty: there are still trays in there, but I no longer have power supplies to power them.
This is more storage than anything. The machines in the front are a couple of very old Pentiums and (big chassis) the remains of my first wireless router, a 486/66 which was based on FreeBSD 5.0 and ran a very early kernel with no problems whatsoever. It's still the only method I would have for running 802.11 FHSS with the Aviator cards.
Behind that is a MicroVAX II and a PDP-11. The other machines, mainly invisible, are described in the older photos below.
These photos are the status as of 22 November 2000. See below for what it looked like a year before.
This photo shows a work area. Under the table is a Tektronix 555 dual-beam oscilloscope, built in about 1965. Here it is again, with its separate power supply
More work area and dead disks. The panel in the corner is a maintenance panel for a Tandem NonStop I machine, of which about 3 were built.
Left, a MIPS M2000, VME-based. On top an HP (Apollo) 400 series. Both are from Mike Smith, and both are functional as far as I know, but I'm missing the monitor cable and keyboard cable from the HP. If anybody has one they're prepared to part with, I'd be interested in hearing.
On the right, solo.lemis.com, a Tandem LXN. This was the first UNIX machine that Tandem shipped, and it was really a rebadged Altos 3068. It had a Motorola 68020 CPU and a separate I/O processor for 10 serial lines. It was also multiprocessor capable, though the operating system (System V.3.0) most definitely was not; the first attempts got about a 30% improvement out of the second CPU, and it was never shippped in that configuration.
The rear of the LXN.
A Digital LSI-11/73 (a PDP-11 with LSI chips). It has 2 MB of memory and 3 RL02 disks for a total of 30 MB, unfortunately not enough disk for 2.11BSD. And of course there's no way to run NFS on this box.
These photos were taken shortly after moving in.