First day of Daylight Saving Time today, time to reset dozens of timekeeping devices. Fortunately computers, even Microsoft, Apple and Android, now do that automatically. But there are still 8 cameras, two watches, two microwave ovens, one conventional oven, two conventional clocks and two car clocks, a total of 17.
The older cameras are clear: go through the menu and set the time. Three of them are so old that I won't bother until I really take a photo with them. But the newest ones (Olympus OM-D) can communicate with the horrible Olympus Image Share mobile phone app. Ah, no, it's not Olympus any more, it's "OM Systems". I've already established that There Can Only Be One, so for every camera I need a mobile phone that knows about it. For the OM-D E-M1 Mark I and E-M1 Mark II things worked well enough, because they ignored the setting saying "disable touch screen" and allowed me to select "Wi-Fi" from the display. But the OM-D E-M5 Mark III does the right thing, at least there. To enable Wi-Fi I need to go into the menu tree.
But where? Off to RTFM, which took me about 10 minutes. Of course! It's in the "Playback" menu! Isn't that obvious and intuitive?
I wasn't done. On the phone I needed to start OI.Share. But which one?
Answer: the dirty one on the left. The other is the old, worn-out Olympus OI.Share, though it does offer to start the newer one. Interestingly, the old one is much bigger, as I discovered when I removed it:
That wasn't the only fun. Setting the time on the oven is so obscure that I just turn it off and let it go through its initialization sequence, which takes a couple of minutes but allows me to set the time. And one of the microwave ovens kept showing the old time. Did I really get it wrong 3 times? No, it doesn't say so, but it requires me to press the button Clock after setting the time.
Yes, getting rid of DST would be good for my nerves.
Found some forgotten "baby" octopus in the deep freeze recently:
Is that an alternative to squid tubes for KL Hokkien Mee? Only one way to find out:
At any rate it didn't require the smoking hot frying that the squid does. And yes, a very acceptable alternative.
Two short grid power failures round midday today, one 4 seconds, the other 3.
So do I go to Europe in December? I really don't want to, but if I have to, I should combine it with a few visits. For various reasons I want to go to Hamburg, and it occurred to me that there's a relatively active group, BSDHH, which meets once a month at a Chinese restaurant (Lotusblüte?) in Eppendorf. Would the time match when I might be there? Where's the last mail message on the topic?
=== grog@eureka (/dev/pts/35) ~/Mail 4 -> grep BSDHH *
david.purdue:16N8Qv8AkB2//Xyv/oL15zjI6fpTReC/hBz7n6cUY9s/rR9cfiBSDHHT8qZ1i/gP0NH5fpR7
iracarmel:wwwuuaRJDS6x0MlOM6Mygw43ueBSDHHN5BJMmuMEg4sv0H3zSimtUlOKL3zGwkox7VDDSikP
sandraellis.pi:bGGfrmbQly77BJBxhKV+AroJT7kjZ+Yh6pjbRuBpr3pMen1qa2SiR5UqBSDHHEhUfE4t1p3c
tessaa:mDrsRKLDTiQ67GxDh51t6LATiQ47kZiBSDHHeH3rE1sTyUtbS7a+SfK2qrbayf4NJzCadUgg03ie
tomt:Zu5JJSiOHZZlnxnss5xeST3SSiE8IsaydOkkhSScBSDHHsUlMISRfReeyf7O4+ARoqQpI/2bxcFI
=== grog@eureka (/dev/pts/35) ~/Mail 5 -> grep Lotusb *
frolley_zuideveld:VvOvLotusb8ut1MTEo5nDjxkJGp5MjYhaw2NdTGWVqtDxMmPIROvWf8ALgEI7Ki8mfWEFSB6

That's amazing! These are all encoded texts, and the encoding should be gibberish. But there were no fewer than 6 hits (in fact more, because the same texts appeared elsewhere as well).
After a bit more searching, found the web site, which states that the restaurant is the Lotosblüte, and they meet on the first Wednesday of the month. That could overlap, but I need to be back in Adelaide on the Saturday. Enough time?
No. If I eat in Hamburg on Wednesday evening, I couldn't leave for Australia until round midday on Thursday. Checking flight availability, the earliest I could be in Adelaide would be at 7:55 on Saturday, after spending two nights in a plane. No, people, those days are over.
Paul Donaghy along this morning to mow the lawn, which was greatly in need of it. It wasn't easy: it has been so wet recently that he could hardly get through, and he'll have to have another go next week, when hopefully it will be dryer.
The sun was shining, so outside at mean solar noon today to take my analemma photos. Damn! The battery had chosen just now to fail. Why didn't I see that yesterday when I was resetting the times?
Looked up. Carlotta, Yvonne's horse, was in the arena, but I didn't see Yvonne. Carlotta had a saddle on, which suggests that Yvonne should have been riding her. Over to find Yvonne huddled on her side on the ground. It seems that Carlotta had suddenly started bucking in rodeo style for no apparent reason, and after the third attempt Yvonne had sailed off.
How seriously injured was she? Pain across the chest, strange in view of the fact that she had landed on her back, and her inflatable vest had cushioned the impact. I took Carlotta back to the paddock, and later fed her. It seems that this is less than half what the two horses currently get: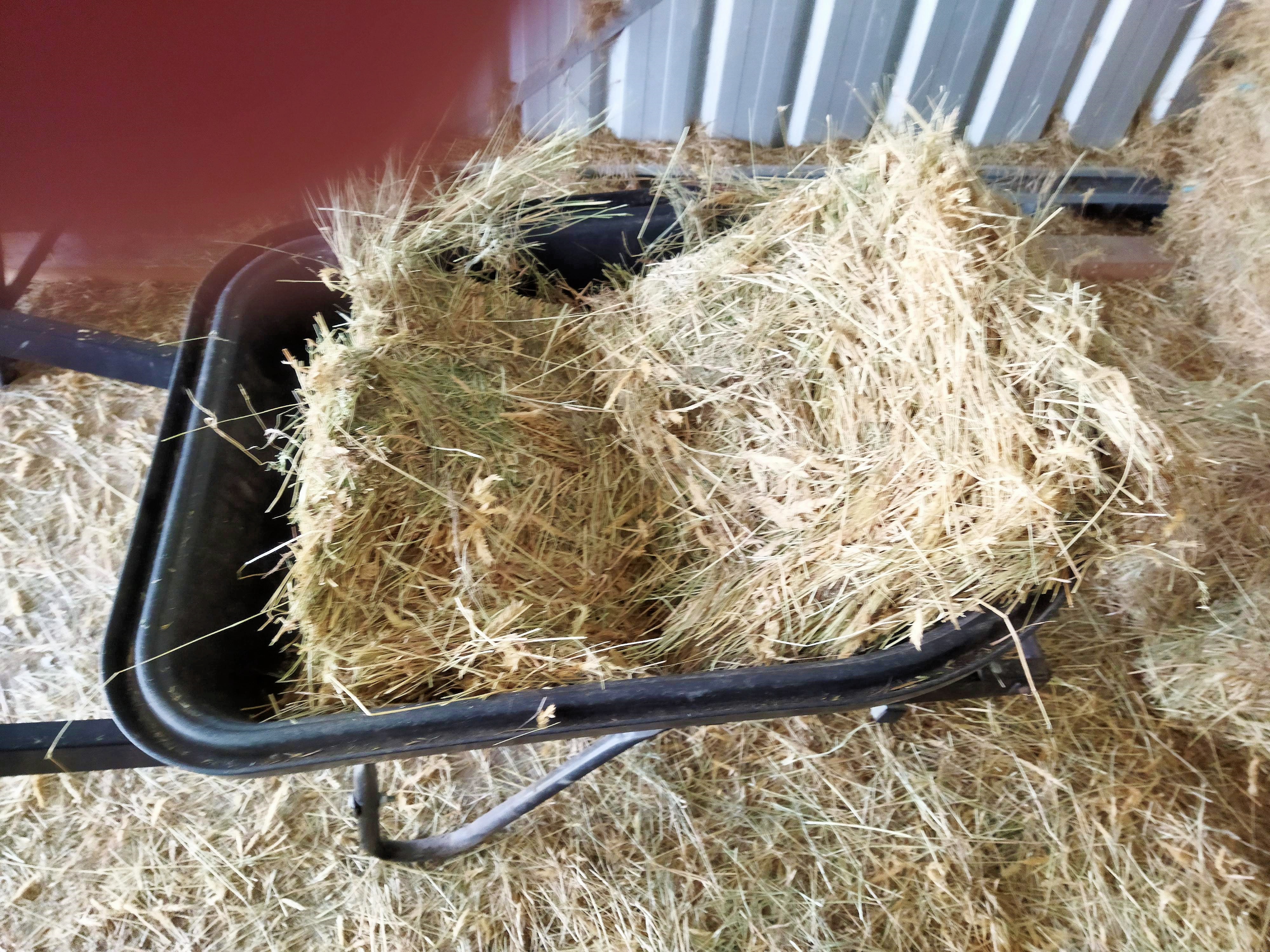 Yvonne had thought that Carlotta had had some sudden pain—sciatica maybe—but she didn't show any symptoms.
After some thought, off into Ballarat to get Paul Smith to look at Yvonne. He was able to rule out any serious issues, certainly nothing to do with the spine, but he thought that a CT scan of the cervicothoracic area.
Off to the new Sovereign Radiology in Sebastopol—we thought. Easy to find, on Albert Street. Got there just as everybody was leaving: it wasn't Sovereign Radiology at all, but Vision Radiology. Both have only recently popped up, and they're just about across the road from each other. Sovereign Radiology is in the same building as Tristar, where I used to go until six years ago.
So, as discussed with Paul: see how Yvonne feels tomorrow, and if she still isn't too good, she can do the scan then.
While I was picking Yvonne from the ground, another grid power failure, this time 25 seconds. I hope that's not going to happen too often.
I don't have an original battery charger for my older Olympus camera batteries, though I have 4 cameras that take the same kind. Instead I have 4 aftermarket chargers, all of the same kind:
They come with adapter boards for various kinds of batteries. Here the charger without adapter in the middle, the front of an adapter on the left and the rear of an adapter on the right:
Two of the adapters don't seem to be designed for my batteries. The one at bottom right of the first image contains the inscription "Fits FUJ. FNP-140", and the other is for the BLN-1 batteries for the simpler mirrorless cameras, for which I have at least 2 original chargers. Charged one of the old batteries for the E-30 in the appropriate charger, then put in the one that had failed today. It showed fully charged!
Further examination showed a poor contact on the power supply adapter board: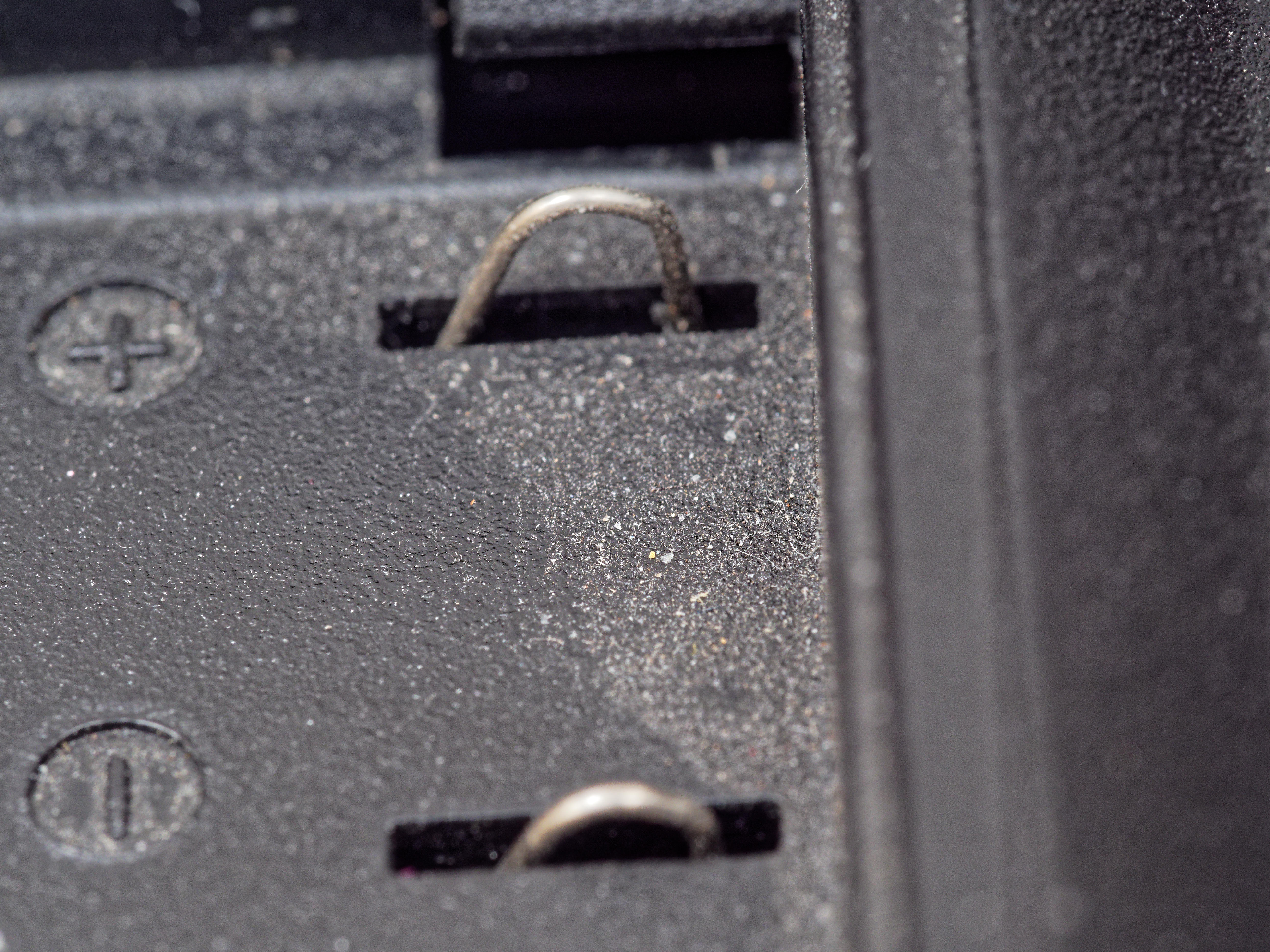 If I pressed on the battery, it started charging, but otherwise I got a false positive. The other one looked normal:
OK, charge the battery. The charger LED shows red when charging, and green when charged. But there was an orange phase! That doesn't give me the warm, fuzzy feeling that the batteries are being charged exactly.