Up early this morning to prepare for the arrival of Will Tatnell and his mate to lay pipes for horse troughs, look at bracken removal in the house forest, and put some real soil in the garden.
No show. Round midday Yvonne rang Will and discovered that he had tested positive for COVID-19. Next week, maybe.
Why is it that nobody ever tells you when they're not going to show?
While preparing breakfast, heard some classical oboe music on the radio. Tomaso Albinoni? When it was over, listened to the announcer. No mention of a composer.
OK, that's what the ABC Listen App is for, isn't it? Fire it up and discover that there's nothing like what we heard. Ah, for mobile phones, and apparently only for mobile phones, there's a second channel. Find the correct one, which shows what it's playing now. Ah, but there's "more info". That shows what is still to come. More searching, and finally found "Full Tracklist", showing not the full track list, but what they had already played, in reverse chronological order:
And that's all! I couldn't find a way to get more information, and they were too polite to assume that I didn't understand their truncation of KV 370 (a link that I had to add) and thus know that the composer was Wolfgang Amadeus Mozart, like the composer of KV 444 and KV 572. And of course, being an app, it's obligatory to truncate the text. It's not even clear who the oboist was, though I'm sure that was announced.
Why do I even bother?
Australian federal election today, a time to finally get rid of the backwards-looking Liberal-National Coalition and address the problem that real people have. It seems to have been a low-key affair. Normally I'm bombarded with paper mail asking me to vote for somebody whose name I really have forgotten, but this time there were only two. And down at the Dereel Hall, there seemed to be almost nothing going on: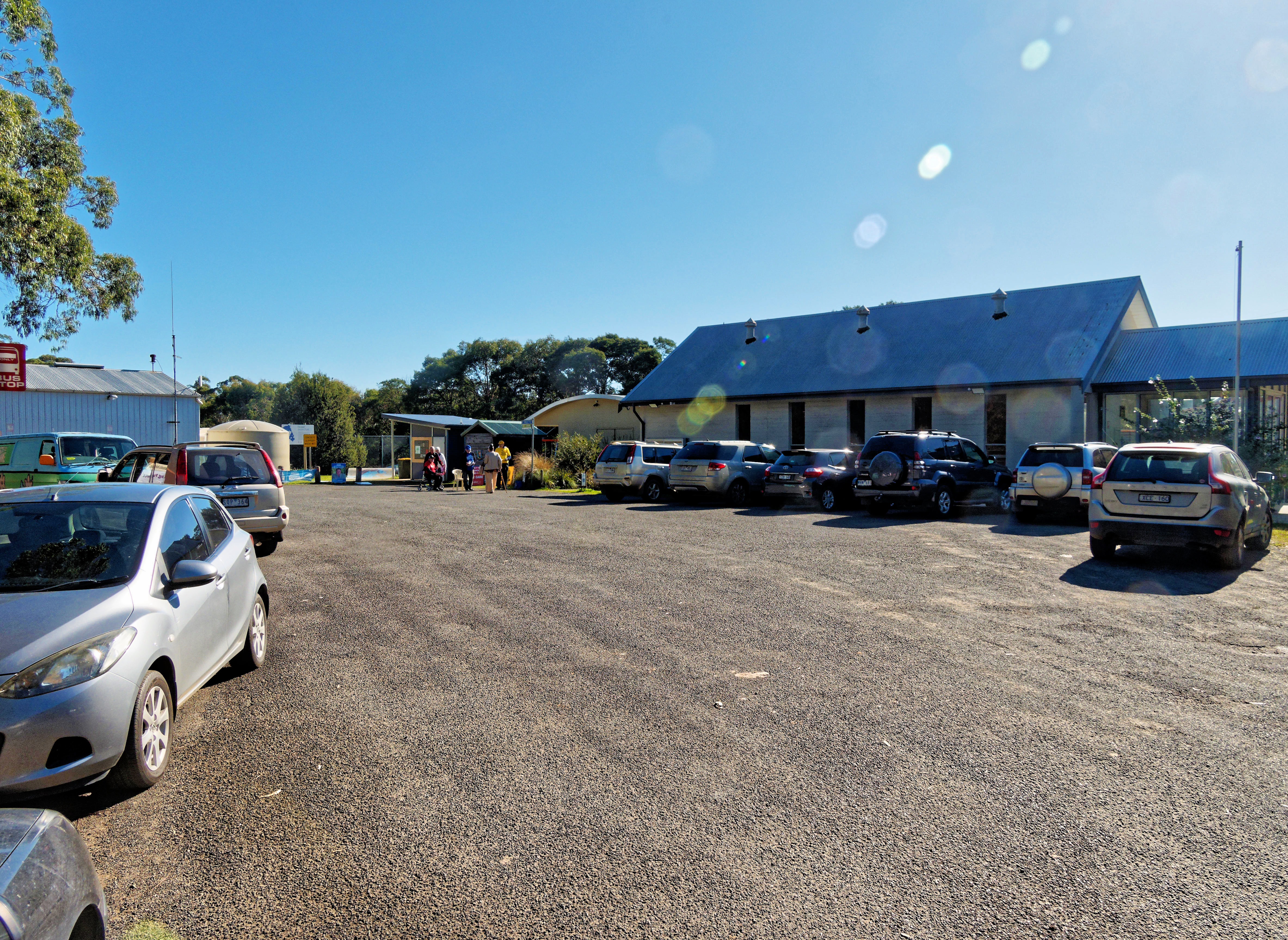 On previous occasions there had been much more presence of representatives of the individual parties. This time only three. Off to ask them why I should vote for them. The bloke on the left (Australian Labor Party) said "No idea mate. Ask somebody with half a brain". So I turned to the bloke in the middle: "Why should I vote for the Greens?". His answer was clearer: "Don't. Vote for us, the party with slogans so confusing that you could think we were batting for the other side" (I may have missed the exact wording). And yes, the big letters "GREEN" were just the name of the candidate, so well known that only his party's web site (currently) describes him. You need to read the small print to see that he was really advocating the Liberals, part of the coalition. That's not the first time I've seen that: six years ago they had a similarly confusing slogan:
It would be easy to see that as recommending Labor, but again it's an inept advertisement for the Liberals.
We eat fondue about once a month, and today was the day. On Wednesday Yvonne had asked me whether we had enough cheese. Yes, said I, so much that I don't need to check.
Came time to thaw it out today. Yes, plenty of cheese, almost all Appenzeller. Only 75 g Gruyère, where I needed at least 210 g. Nothing for it, into town to Campanas, where I asked "What kinds of genuine Swiss cheese do you have?". "Jarlsberg" (from Norway). I said as much, and her colleague said "Gouda" (from Holland). But yes, they did have two different types of Swiss Gruyère ("Swiss" is important, since similar cheeses made elsewhere are also called "Gruyère" in Australia), one 24 months old. That sounded like just the trick.
Back home, further discoveries. I've had difficulty recently refilling the réchaud, so today I weighed things. Yes, gas came out of the two almost-empty canisters, and after quite some time I had about 10 g. How much does the thing hold? Got a new canister and tried again. It quickly filled another 15 g. Clearly that's enough, but it seems that the lesson is that it's almost impossible to completely empty the canisters. I have enough lying around to last for the rest of my life, so the two old canisters can go—but where?
And the cheese? A little disappointing, and too salty, but certainly enjoyable. In the process came to the conclusion that we should only eat 125 g of cheese per person, down from 150 g not so long ago.
In Ballarat, once again had difficulty finding a parking place near Campanas, and ended up having to park in a meter zone. I try to avoid that, and in Ballarat it's usually possible, but today I found another reason to avoid it: I couldn't operate the meter! I've been there before, but I had forgotten how bad it is. The display is aimed at my stomach, and the contrast is so bad that I can't read it. Finally I discovered I had to enter my registration number on an incorrectly laid-out keyboard. I've before, but on that occasion I had the wrong glasses on. Today it was just illegible. Got as far as entering my rego, then I got another display. I needed to take a photo to read it:
But by the time I finished, the meter had got bored and reset to the initial display. Sorry, people, this meter is defective.
But why have these horrible devices in the first place? For once this would be an obvious application for a mobile phone app. That way you would have your payment details, car registration and even location available automatically; all you would need would be to decide how long to stay.
Searching for apps showed, of course, that there are many—far too many. Each appears to apply to a very small geographical area, which makes them much less useful. And of course the reviews suggest that they're of typical mobile phone app quality, leaving much to be desired. On the positive side, some are able to detect when you leave, so you only pay for the time you're really there—if they work correctly.
Now wouldn't it be nice for some regional authority to develop a well-functioning app that covers all the parking in the area?
On Thursday I discovered that my GPSLogger had not logged anything for half an hour. How could that be? When in Ballarat, took another look at the display:
For whatever reason (probably because it was in the car) the readings weren't accurate enough for my settings, which told it to discard all readings accurate to less than 5 m. Changed that to 20 m, and the effect was immediate. From this track log:
But why only 20 m? Do other phones do better?
On the way back home from Ballarat dropped into the post office in Napoleons again. My package still hasn't arrived! Sent from the war zone in Ukraine, halfway round the world, arrived in Ballarat and got lost between there and Napoleons! Time for a formal complaint, for all the good that will do. In the end I'll get my money back, but the person who pays will probably be the seller in Kyiv, who is the least to blame.
A month to go to the June solstice, time for the monthly garden photos.
There's not much to see at this time of year. As last year, the birch looks like autumn, though the cherry has lost all its leaves:
The Hibiscus rosa-sinensis is flowering happily, better than this time last year (first photo):
We'll have to protect it from the frosts in the near future, probably as soon as the flowers start to diminish.
Last year I was concerned about my Buddleja x weyeriana, and this year they don't look significantly different. Here last year (first image) and this year:
But given that they nearly died in between, I'm quite happy, particularly that the twig I planted a couple of months ago is now flowering.
The Alyogyne huegelii that Bryan Ross so mistreated has now fought its way out of the Cannas and is now flowering again:
And the Abutilon that we cloned last year is now well established:
The last couple of days have been sunny, almost cloudless. Not good conditions for flower photos: the contrast is too high. How about flash fill-in? Conventional wisdom has it that flash and sunshine don't mix, but it's worth trying.
I don't know what to make of the results. Here are a few, no flash on the left, flash on the right:
Does it improve things? I can see it more as something to experiment with.