Up late this morning and to the Suntec food court in search of a nasi lemak, and finally found one. Interestingly, it was dry, the way Lim Kim Yong had claimed. There seem to be two different traditions here: my recipe is also from the area, and it's the way I recall it in the past.
After that, checked out of the hotel and to Mohamed Mustafa Samsuddin to do some shopping. This is another place where I've been shopping for years, and when I got there I realised that half the clothing I had on had been purchased there, as had my handbag, watch and pen. Today I was looking for more clothing: one of the interesting dichotomies of Singapore life is the difference in pricing between the international hotel scene and the traditional Singapore. Since I am staying on for another three days, I need clean clothes. At the Marina Mandarin, where I stayed the last three nights, it costs (Singapore) $16.00 to launder a shirt, a singlet and a pair of underpants. I could buy the same items at Mohamed Mustafa Samsuddin for $10.78.
Still, I'm either becoming even more demanding, or Mohamed Mustafa Samsuddin isn't what it was. Service is getting pretty terrible, and I couldn't find some things in the main shop, so went round the corner to the other place, where to my disgust the prices were significantly higher. Gave up on buying a phone ($85 in the first shop, $95 in the second) and walked down to Sim Lim Square, where I found the same one for $78, along with the interesting discovery that there's a companion headset, which I also bought. Maybe Andy Johnstone will now stop complaining that I have a turbine in my office.
Back to the hotel, checked out of the Marina Mandarin and into the Pan Pacific, not an easy place to enter. You can see it (40-odd stories) for miles, but the entrances are unmarked. On the positive side, they have pay-by-day high-speed Internet access for less than the Marina Mandarin wants per hour, though the performance wasn't as spectacular, and though the IP addresses are real, they don't have reverse DNS, and their DNS in general is very slow. Spent most of the afternoon trying to catch up on my mail.
In the evening, out looking for food, again without the feeling of complete success. Maybe I'm just getting fussier in my old age.
Nothing much to do today, so spent some time trying to catch up with my mail. There's something funny about working on a laptop—probably a result of having such a limited space on the screen, along with an uncomfortable keyboard—which makes things take so much longer. Somehow there's a lesson to be learnt here. Most people have only one screen and an unmodified keyboard, so presumably they all have the same problems that I have now. So why don't more people run with multiple displays?
In the afternoon, people started arriving for the conference, and spent some time talking with them, conveniently being able to print out some business cards, since I had run out; in this part of the world that's akin to being naked in public. Out to dinner with a couple of the delegates.
Today was the first day of the second Asia Open Source Software Symposium, run very much by the Japanese. The morning was taken up with presentations. The most interesting one from my viewpoint was Kenichi Handa's talk about mule, the multilingual version of Emacs. It wasn't clear to me before how much license issues have hampered development and distribution. He did his presentation in an Emacs mode called Emacspoint, but he's not allowed to distribute it yet. Pity: it looks like an interesting presentation tool.
In the afternoon there were ten-minute status reports from 18 "economies" (i.e. countries), and to my surprise they managed to keep people ahead of schedule, so that I was able to do my presentation as well. There are a lot of interesting things to think about, in particular the strong differences between the richest and poorest countries in the group, and also the strong significance of localization. In some cases these two issues have resulted in Microsoft deciding that it wasn't worth bringing out a localized version, a good start for open source software.
In the evening had dinner in a restaurant on the Esplanade, then back for BoF sessions, running from 20:30 to 22:30. I chose the legal (i.e. license issue) BoF, run by Ho Kuo-Wei, vice-president of Acer, which was quite interesting. Correspondingly later to bed.
Second day of the conference, a little less formal (and shorter!) than the first. The main task was to decide on what to do next, and we spent most of the day discussing it. Came up with a number of working groups, myself in a group to sponsor some form of open source programming contest. My intention is to have national contests, and the winners should then participate in an international contest. In the process, it seems that Australia has become part of Asia, at least for this effort.
In the evening, Sanjeev Gupta took us (Lim Swee Tat, Lim Kim Yong and Stefan, whose surname I don't recall) to a Northern Indian restaurant in Little India, just a few doors down the street from Muthi's Fish Head Curry restaurant, which Kim Yong tells me is not what it used to be. He's right: the food's not bad, but nothing spectacular. For some reason, the food's reminiscent of the Sneha restaurant Roberto and I went to in September, though that was predominantly Southern Indian. Then off to the airport, where I was told that Qantas no longer issues upgrades on points on arrival; I needed a minimum of 3 weeks. This airline is getting on my nerves more and more.
Arrived in Darwin ahead of schedule, where they did everything to make life miserable, including putting us through an X-ray security check—in transit!. I commented about it to the security guard, who said "You wouldn't believe what we find". She's right. Makes you wonder why they don't check the people who are disembarking instead.
Arrived in Adelaide 15 minutes early, having managed to sleep for a total of about 3 hours, and reacted accordingly, forgetting my customs declaration a couple of times. Back home, fought mail while I could keep my eyes open, but didn't get anything useful done.
Somehow catching up on mail is worse than usual. A number of things have flared up while I was away, notably the choice of papers for the Linux and Open Source in Government conference.
In addition, I received the Internode machine that I had been looking at last month for testing: the work I did then didn't fix the problem. It has dual HTT 3 GHz Xeons and 2 GB RAM, making it the most powerful machine I have ever used personally. It's interesting to contemplate the increase in computer power since I started work. In those days, the leader was the Control Data 7600, which managed about 350 MIPS per processor under ideal circumstances. Under equally ideal circumstances, this machine must run about 10 GIPS per CPU. Managed to panic it several times, but not in the manner I had intended. More work is necessary here.
Finally spring is coming. It's been a very wet winter, and we've been waiting for good weather to make hay for at least a month. Today was the day:
It was high time, too, as a lot of the grass was going to seed—see the purplish fronds at the top of some of the grass in the foreground.
Came in this morning and discovered that the Internode machine had crashed several times during the night. It had only generated one readable processor dump, but it showed the same syndrome, so I don't need to look any further to reproduce it. Instead, spent most of the day today writing a system call to set memory access breakpoints, which I intend to use to catch the corruption. I wrote the core code over ten years ago as part of lowbug, at a time when BSD/386 didn't have a kernel debugger. lowbug didn't survive, but it had a number of features which are still not in the modern kernel debuggers.
Inserting breakpoints seemed to be an obvious application for a kld. Well, for an LKM, which could also add system calls. I couldn't recall whether they could even do system calls, so asked Google, with the rather amusing result that pointed to my own machine. Worked on that for a while, and by the evening had finished coding and was able to start testing, which promptly froze the machine. Mañana.
Decided to take it easy today (well, not to do much with computers). Instead did some more thinking about a temperature controlled fermentation enclosure (effectively a fridge with a digital thermostat and a 60W light bulb for warming), and made some progress on that front. Also to Grumpys for some supplies: I'm experimenting now, this time with an all-malt-extract dry-hopped ale. Also wrote a little program to calculate sugar requirements. Sure, there are plenty of programs available on the web, but they all seem a little hard to use. Found a relatively comprehensive library which still left to be desired.
While making up the wort, Erwin Lansing and his friend Jens arrived, and after dinner we spent far too long trying to download photos from their digital cameras. The problems we had really highlight the state of laptop support in FreeBSD at the moment:
First I tried to read the flash card in adelaide, my new laptop, which I had upgraded to the latest -CURRENT a couple of days ago. I still got data corruption, though it doesn't seem to be as bad as before.

Tried it in syndey, with a somewhat older -CURRENT. Same problem.

Rebooted sydney with FreeBSD-4.6. It couldn't recognize the flash card.

Tried to build gphoto2 on sydney (USB doesn't work at all on adelaide). It panicked several times with a "don't do that" panic. That's supposed to be developer only code.

After that, the keyboard no longer functioned, and I had to not only power down, but also remove the battery, to get it to work again.

Finally we got gphoto2 to work, but it core dumped when trying to access files.

Finally gave up and booted Knoppix on adelaide. It recognized the flash cards immediately. There was some problem copying it anywhere, because Knoppix has no disk space, it doesn't recognize the Ethernet chip (Broadcom 4400) in the laptop, and there is only one PCMCIA slot. I was able to copy the data to ramdisk and then exchange the flash card for an Ethernet card and copy the data to another machine.
What a pain! We really need to look at these issues.
In the morning, finally got round to connecting up my thermostat for the fridge, which took far longer than it should have done. On turning on and setting to 18°, it lowered the temperature to 4° before cutting out. Obviously there's more latency than there should be. Hopefully it'll work better when there's something in the fridge.
BUGA Barbecue today, and people started arriving round lunch. Had an interesting talk and consumed surprising quantities of beer, mainly my own. Coopers have introduced a new bottle size, along with even cloudier beer, which, it seems, comes from the unmalted wheat component and not the yeast. The new bottles are higher and no longer fit in the same space in the fridge. Hopefully they'll fix that.
It's fun having visitors over the weekend, but it shows up in the amount of work I had piled up this morning. I had intended to continue work on the sick computer I was looking at on Friday, but so many other things got in the way that I wasn't able to start until 3 pm. When I did, the system kept crashing: I think there may be hardware problems with the box. Frustrating day.
Not quite as I planned, did something completely different today: instead of work, after reading my most urgent mail I devoted most of the day to beer. On Sunday, Daniel O'Connor offered me what proved to be about 400 empty beer bottles, so planned to go and collect them. In addition, I've been meaning to do a number of partially experimental brews with liquid malt extract, which requires a certain amount of preparation. Coopers make 28 kg cans of malt extract for about 40% of the cost of the 1.5 kg cans, which made it quite attractive. That would make enough beer for the best part of a year, though, and the stuff is hard to handle. Phillipa Jarrett wrote an article on the subject, suggesting the use of a honey gate. The problem is, what's that? On Saturday Andrew Schultz told me of a supplier, John Guilfoyle in Prospect Road, so called them up and discussed the matter, and was little the wiser except knowing that the things weren't frantically expensive.
Down to Grumpys to pick up a can of malt extract and some hops, and also got some "wheat malt" extract. It seems that this is a misnomer: it's 45% wheat malt, 55% barley malt, which is written nowhere on the can. Good to know.
At Guilfoyles, discovered the cause of my confusion: a honey gate is just a kind of tap, so you can't use it on the original drum. Instead you need a second container to which you attach the gate. Fortunately, he had a second-hand bucket there and was able to fit it with the honey gate right away. After cleaning and filling, it looks like this:
Then off to Daniel's place to pick up the bottles, getting back just in time for a conference call about the Linux and Open Source in Government conference, where we finally got our programme together in a mammoth 107 minute call.
Carried on working on the Internode box and discovered that it seems to work fine with a GENERIC kernel. Looks as if whatever bugs we're seeing—and I'm now pretty sure they're software bugs—are tickled by the kernel build parameters in the original kernel.
Spent far too much time brewing beer today. It was supposed to take an hour or so, and with various odds and ends I spent half the day on it.
More problems with the electrics in the pump house today. We've had this before. Last time I called in ETSA, who found a problem on my side. This time they found one of their fuses had blown, but after replacing it, we blew something on our side. One of the ETSA people, Jason, came down and told me the details; looks like a blown main switch. Sigh.
Up relatively early today to head to Sydney for an AUUG board meeting. It's not far, but the odds and ends add up: the flight is less than 2 hours, but I left home at 10:10 am for an 11:55 flight, arriving at 14:10 (ahead of time), waiting far too long for a poorly documented shuttle service which finally didn't leave until 15:30, getting me to Liz' place at 16:30.
Off to look at the AUUG storage box (look back later for a photo), and extracted a fair amount of stuff from there. We should get rid of this place: there's too much junk in there, and apart from statutory requirements about keeping old documents, there's no point.
In the evening to an "Irish Pub", the "Mean Fiddler". Nice place, grill-yourself steaks, as ever too loud music. Since we're in Sydney, I had to wear covering footwear, so made a point of it, wearing riding breeches and boots. Peter Sandilands and Gordon Hubbard came along, and a good time was had by those whose stomachs were able to handle Peter's stories of the food he has had to eat in remote parts of Asia.
Up early this morning to find our way into North Sydney for the AUUG board meeting. Liz and Steve live in the suburbs, approximately the same distance from the town centre as we do, but the road in to town is almost all built up. By European standards the traffic isn't too bad, but I'd certainly hate to have to return to that kind of life.
The meeting itself was a little slower than normal: we have two new board members (Jonathon Coombes, who couldn't make it to the last meeting, and Andrew Cowie, who was only elected after David Bullock left), and two officers were missing (David Purdue, vice-president, and Adrian Close, secretary). We also had a lot to get through, and of course in November we traditionally start our arguments about how to position the conference this year. We ended up with some new ideas to chew on, and it looks like we'll have another monster conference call on the subject on Tuesday.
People warned me about the time it could take (up to an hour) to get to the airport on a Friday afternoon, and it also seemed impossible to order a cab for a certain time, so we stopped the meeting at 16:30, and I went out looking for a cab. Found one within about 20 seconds, and he got me to the airport in 22 minutes, just before the previous flight left. They would have let me on that flight had I had a different class of ticket; instead I had to go up to the Qantas Club and use their facilities, and also make them run the risk of having to turn back a latecomer for the following flight. I can't see that that kind of decision does anybody any good.
Another day where I was feeling too tired to do anything useful. The idea of reading through 3,000 mail messages is somehow rather demotivating. Read the important ones—I thought—and didn't do much else all day.
The weather has been really hot, round 35°, just what we needed to finally, for the first time in six years, get our hay in without being rained on. No rain was predicted until Monday, and Brian Schulz was due to come and bale the stuff today. But he didn't. I'm reminded that he did exactly the same thing last year. In the evening had an enormous change in the weather. The temperature dropped to 14°, precipitating atmospheric humidity, but fortunately not raining. I can imagine Yvonne sticking pins into a wax effigy of Brian.
Woken early this morning: Brian Schulz must have read my web log, or maybe his conscience got the better of him, and he got a rather reluctant friend from Murray Bridge to come to help put the hay in the shed. He also promised to come by this evening (or, failing that, at 6 am tomorrow morning) to bale and shed the rest of the hay.
Slept on a little later than usual (it was a Sunday, after all!), came into the office and discovered that a FreeBSD Core Team teleconference had been scheduled overnight and had been running for an hour. I wish people would give a bit of thought to the shape of the globe. Dialed in and carried on talking for another 40 minutes.
In the afternoon, another long phone call with Kim Shelt. That makes a couple of hours on the phone today alone.
Apart from that, didn't do much. I didn't even have the energy to catch up on my mail, which is running 3,500 or so messages again. No sign of Brian in the evening.
Woken at 4:30 am by the sound of thunder and rain. Yet another year where we didn't get all the hay in before it rained. The people arrived a little later than planned, round 8:30 am, and in the end the hay was probably none the worse for the rain, but it's so frustrating that it never gets done right. Yvonne was suffering from severe stress all day as a result.
Finally got on top of my mail, more or less, but apart from that and bottling another batch of beer, didn't get much done.
Spent a lot of time brewing today. This and the next brew will be the end of a run of experimental brews. Apart from that, more discussion on the AUUG 2004 conference. We're considering some really cheap registrations for people not involved in the profession. It'll be interesting to see if that works out.
Keeping these brewing records by hand was the only practical way when I started brewing in 1971, but it's looking rather out of date now. Since I've started putting up some of my brewing information on the web, it makes even less sense. I have an old Dell prototype which had been given to me for free to operate the gate to the property (thus the chosen name gatekeeper), but that hasn't eventuated yet, so I've renamed it brewmaster and moved it to the kitchen:
That should also be useful for recipe lookup and maintaining the deep freeze list, currently kept on paper.
Finally had some time to look at the Internode machine. I can't believe it's been three weeks since I got it; where did this month go? Fighting klds is still a pain. Made some progress, but it should be more.
Finally spent some time looking at the debug code for the Internode machine, and got it to work. In the process, discovered that my original assumption was incorrect: despite the way the code looks, obj_zone->zkva can be 0, so the problem must lie somewhere else. In view of the fact that the GENERIC kernel works fine, the obvious first choice would be the kernel configuration: possibly the tuning parameters have triggered an unchecked-for error condition. It's probably a better idea to install FreeBSD 5.2, which is what I started after first investigating why 4.8 didn't work. That was straightforward enough: It seems that 4.8 didn't like the Adaptec RAID controller in the machine, strange in view of the strong FreeBSD bias at Adaptec.
Today I had intended to go to the ADUUG lunch in Adelaide, but there was too much work to do, and I'm not crazy about Buongiorno's anyway, so didn't go after all. Instead, spent some time working on installing a more recent version of FreeBSD on the Internode machine. Also looking at some problems with Vinum: for some reason, it's no longer possible to start Vinum.
Quiet day. Spent some time looking for the bug in Vinum, and finally discovered that it was a missed commit needed as the result of still more changes to GEOM. That could have been easier.
Apart from that, more brewing, the fourth in my series of experimental pale ales. Also did some cooking. In Germany, we cheated and used instant mix for potato and similar dumplings that go with some German dishes. We can get them in Australia, sometimes, but they're relatively expensive and not easy to find. A few days ago I tried some Semmelknödel which worked out relatively well for a first attempt, but today I tried a recipe off the web which seemed to have been designed as proof for my claim that recipe writers cook something, forget the details, then guess what they have done and write it down. The quantities for the mix were so completely wrong that instead of a firm mass which I should have been able to form with my hands, I ended up with a viscous liquid. Did what I could to fix that, but it was still pretty much a disaster. I was so far from a good recipe that I don't even have a spec for next time's attempt. The main item of the dinner was roast pork which also took 50% longer than planned. Frustrating afternoon.
Prepared to commit the fixes to Vinum today. It took the whole day! Our machines are so much faster now than they were ten years ago, but gcc has slowed down by the same factor, so that it still takes all day to build the system and a kernel.
Apart from that, didn't do very much. Setting up the OpenBSD laptop in the kitchen is more work than I expected. For some reason, the backspace key returns DEL, and I can't find a way to fix it: wsconctl allows remapping keys, but it interprets BackSpace as DEL. Also, the Meta keys don't do what I'd expect: emacs doesn't want to know about the keycodes generated by them. Unfortunately, FreeBSD doesn't run on this laptop; maybe I should try NetBSD.
Came in this morning to discover that release engineering had grown impatient and committed my fix overnight. And I had wanted to test it first... With good reason, as it turned out: it didn't fix the problem. Carried on testing, noting in the process that remote kernel debugging still doesn't work for multiprocessor machines, though disabling SMP solves the problem. Finally discovered that there has been yet another change in the bio layer, and I also needed to set a second offset value (why do we have two in the first place)? This should be easier.
It's funny how you never visit the sights where you live. We found this in Germany: tourists would come and visit the sights where we lived, and in the 25 years I was in Germany I never visited some of the obvious, easily accessible ones. As a result, on Sunday I had wanted to go and visit Old Tailem Town, but we didn't have time, so up early this morning and down to Tailem Bend. It's quite an interesting place: most of the buildings are original buildings moved from elsewhere, including things as big as a church, a cinema, a hotel and a dance hall.
One amusing thing was the bike shed, which has a special meaning in the FreeBSD project: bike sheds are used to describe situations where people can't agree even on simple things such as which colour to paint a bike shed.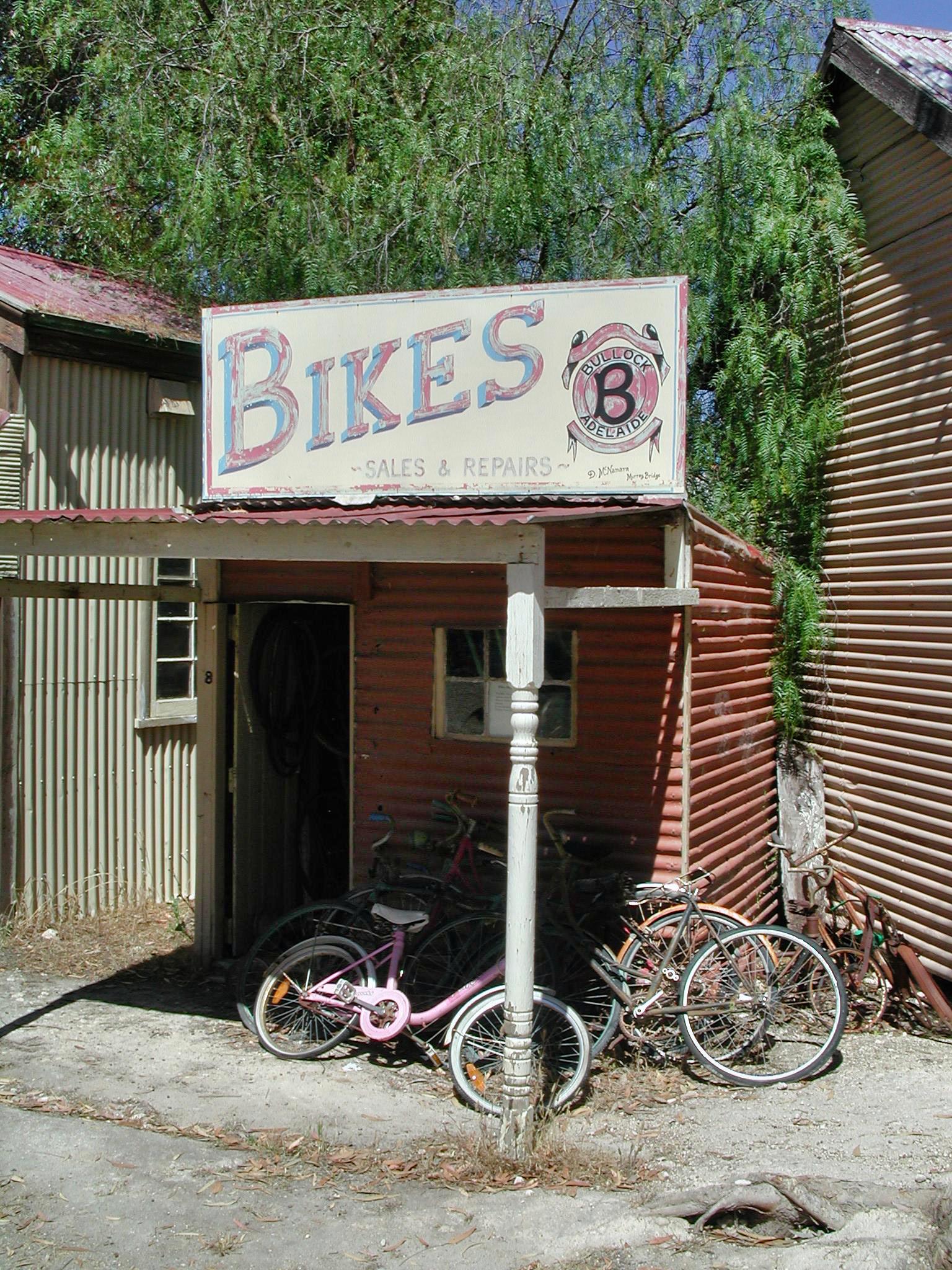 Back home and mainly just caught up on mail. Work is getting monotonous.
More work on the Internode machine today. All was looking well, so I built a 5.2 kernel and booted it. To my surprise, it paniced in some ACPI routine. Rebooted without ACPI and got another panic. Rebooted with the old kernel and got a third panic. Either I've done something really strange, or there's something wrong with this machine after all. sigh
Turned to other matters: yesterday I got a "new" Alpha machine, a DEC 3000/900:
It needed memory fitted, made more complicated by the fact that there was no obvious way to remove the sides (answer: remove the top first, then push the tabs at the top of the side panels away from the system, and lift out the side). Got the memory inside and powered on—nothing. Looks like the power supply has had it. Looked in vain for a fuse, then gave up.
More work on the Internode box today. It's a slow business, but it seems that some of the panics are related to the loader, which doesn't like syntax errors and finds them in documented configuration files. This is a tiring one.
No luck with the Alpha either. Looks like it's dead.
Carried on with trying to get the Alpha machine running today. While trying to remove the power supply for inspection, discovered a power plug on the bottom—disconnected. Connected that and tried again: it took out the circuit breaker, the UPS on the test machines and my main test monitor, which didn't want to turn back on. Further investigation showed loose components in the power supply which might have caused a short circuit. sigh
The Internode box wasn't too happy either. Managed to get it to boot 5.1 again: it seems that ACPI is no longer an option, and if you don't load it at boot time, the system panics with a trap 9. To find that required repeated booting on another machine. I've come to the conclusion that it's worth putting two different systems on a disk when doing this sort of test: the first is the one you're testing. If you get to a situation where you can't boot, you boot from the second system on the disk and fix the files on the first.
Discovered a patch to ACPI which addressed one of the issues, and tried to boot it. It stopped the panic: instead it caused the system to hang. sigh Really not a good day.
Lots of discussion about the ACPI problem today, but no resolution so far. Also a recognition (finally) of the Compact Flash issues that I reported in PR 59103. As I suspected, it had bitten a lot of people.
Apart from that, working on the articles I need to get finished by the end of the month. It's getting more and more difficult to find useful things to say.
More work on the release bugs today. Finally a fix for the Compact Flash bug! Also a lot of work on the ACPI issues, unfortunately without resolution. Still, we're making progress.
Apart from that, spent my time finishing the various articles due by the end of the month, with only partial success. It's a good thing that we're a day ahead of the US.