Seen in my calendar this morning:
Jul 1 Greg retires, 2007

How time flies!
I've been watching a series by the ZDF entitled "Der deutsche Abgrund", about Adolf Hitler and the damage he did to the world. Currently on episode 3, "Demokratie ohne Demokraten", which is quite interesting (and available in English as "The Abyss", but strangely only in Germany, while the German version is available world-wide), explaining how Hitler was able to profit from the downturn in the world economy at the time. I had thought that it was due to a large extent to the Wall Street Crash of 1929, but it seems to have predated that event.
This episode shows that one of Hitler's rallying cries in 1932 was "Make Germany great again". That has a nasty echo. Did Donald Trump know of that? There are plenty of hits on Google, but many with vague connotations of the Hitlerputsch nearly 10 years earlier, and surprisingly few with exact quotations.
What's this? It's a normal coffee spoon, of course:
And even on a relatively close look, it looks clean. But looking very carefully, there's this:
What is it? The colour is strange, and it won't (easily) go away. I've tried twice to remove it, without success.
One of the things that we're having difficulty finding lately are pre-packaged German-style potato dumplings. Yes, we could make them ourselves, but that's work, and the packed ones are quite good.
But we have some rather stiff mashed potato left over from yesterday. Can we make dumplings out of that? Maybe:
Since I was deep-frying stuff anyway, tried it in the deep fryer. After a couple of minutes, things looked OK:
But it started to disintegrate, and before long there were burnt pieces of potato on the basket: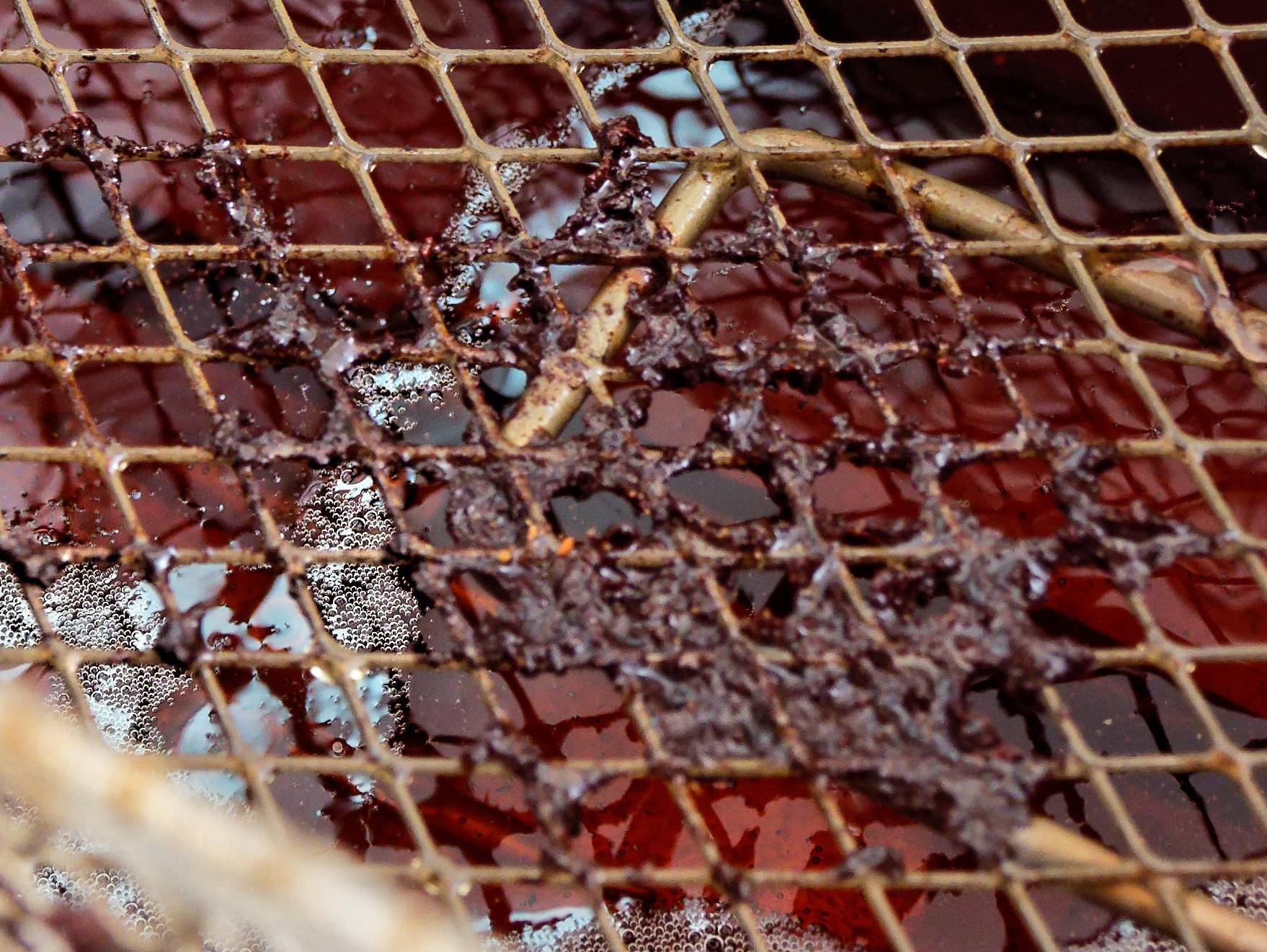 So that's a failure, but maybe I should have boiled them. Next time.
Larissa is making progress, but we're not there yet:
At least it's clear that she had tried to get outside.
And going for a walk is still not her idea of fun:
I wonder when that will change.
For some reason the inverter decided to perform this month's battery recalibration today, starting when the battery charge was 99%:
tstamp
Pac
Status
SOC
VBat
PacGrid
PacBat
PacPV
FromPV
W1
2021-07-02 14:43:20
-875
On-grid (calibrating batteries - 1)
99
269
NULL
-1759
884
0
1756
...
2021-07-02 14:44:15
873
On-grid (calibrating batteries - 1)
100
274
NULL
1
872
0
70
That's right, a total of 55 seconds to reach 100% and stop again. I wonder if there will be another iteration tomorrow.
Yesterday evening, the first of the month, was the day for the level 0 backups. Previously they ran for up to 15 hours, but then I got suggestions from Daniel Nebdal to use alternative compression programs. On eureka that's zstd, because it's older than the alternative compression programs.
Today was the first time to compare it in action. The backup started at 21:00, and it was finished at 7:06, after 10 hours, 6 minutes. Last month it finished at 12:50, 15 hours, 50 minutes. Somehow I had expected more of a difference, but it's still a great improvement.
lagoon was a different story. In the last 2 months it failed, but in April it ran until 10:12, a total of 13 hours, 12 minutes. Last night it ran until 23:15, a total of 2 hours, 15 minutes. That's really worthwhile. Is that because of CPU issues? I was using zstd here too.
Tried sending an SMS today, using the messages.google.com service. Sorry, not today:
OK, Google, what phone are you trying to talk to? It won't say, and I couldn't find a way to establish it. The Learn more link was typically useless: it didn't contain any information about the specific issue.
Tried all the solutions, and finally scanning the QR code worked around the problem. But why does modern software refuse to supply more information? The phone number's an obvious one, but then Google doesn't report IP addresses most of the time either.
We're (just) into the second half of the year, and the first signs of spring are showing, like the first Camellia japonica flower and the first Narcissus:
Even the snowdrops that the gardeners mistreated last month have recovered. Here then and now:
On the other hand, the last flowers of last year are still in evidence. As I half hoped last month, the Hibiscus rosa-sinensis is not only still flowering, but new buds are opening:
And the Corymbia ficifolia hasn't completely stopped flowering:
I still have some concern for the Hibiscus and Corymbia, but we'll see how well founded the are in a couple of months' time.
And a couple of roses have escaped the pruning and are flowering again:
As I had suspected yesterday, the PV inverter wasn't done with its monthly battery calibration. Today it did another cycle starting at 15:10 (35% charge) and going to 100% charge at 18:38. That seems similar to the last couple of months. Now I just need to know whether it will have three feet this month.
One thing does seem clear, though: the decision when to calibrate seems random. Fyodor told me that it came from the battery, but that doesn't make sense to me. On the other hand, why "calibrate" by simply going to 100% if that charge is reached frequently anyway?
Jamie Fraser along again today, this time to pick up equipment instead of to deliver it.
I had decided that I don't want to sell the old UPS that we bought when we moved in here. Instead I would give it away on Freecycle. But clearly Jamie is a more worthy choice, and he has just moved house, so it sounds like a good idea to give it to him. While we were at it, I tried in vain to give him some furniture for his lounge room, the cupboard at the back of this photo from 2004:
But he was having none of it. Instead I managed to give him the old Saeco coffee machine that failed a couple of years ago, and which I think might be relatively easily repaired.
Jamie Fraser wasn't overly keen on taking the Saeco coffee machine yesterday, but I suggested that it might be a minor mechanical problem, and anyway, if he couldn't repair it, he could still throw it away.
Of course he had to play around with it. He fairly quickly found out that it was the coffee grinder that was not working, and that he could have made coffee from ground coffee, had he had any.
Oh. That must be a burnt-out motor. But to my surprise, he found a video showing how to repair the coffee grinder, and it seems that the culprit was a 100 Ω resistor, which had burnt out. Put another resistor there and it worked!
What's wrong with this picture? It's clear what's right: he was able to find exact instructions on the web in a short period of time. But a resistor? That can only mean inappropriate dimensioning of the component, and it seems to have been around for a long time. Still, it's very satisfying to see that the thing is working again, and that it has cost nothing unless you count the cost of the resistor.
I've been cooking rice for decades, for at least 54 years. It's simple: mix rice and water, bring to the boil, wait until there's no water above the rice, cover and turn off the heat, wait 20 minutes. So simple that I have never found a use for a rice cooker.
But one detail still gets me: how much water? Once upon a time I guessed, and it usually worked: the quantity is not that critical. But "recently" (the last few years) I've been trying to find an optimum, and I'm not there yet. Not quite 10 years ago I started a web page on the subject, where I came to the conclusion that a ratio of 1:1.3 rice:water would be good to aim for. But others go as high as 1:2, which seems far too much to me, even for normal long grain rice. Still, over the years I've increased the quantities, and today I tried 1:1.5, and it didn't seem too much. I can see this taking a long time, if I'm ever satisfied.
Larissa is gradually progressing, and she has become much more active than when we got her two weeks ago.
Puppies always require some adaptation, of course, and she's still very much in the chewy phase. She has destroyed a couple of the documents lying around next to my armchair in the lounge room, fortunately none of any significance. But today I caught her chewing on a book that had been sent to Yvonne a week or so ago. Not seriously damaged, but irritating. Yvonne wants to give her egg cartons to chew on, but I can't see that she will be able to tell the difference between them and stuff that is valuable to us.
And then there are house plants. What's this one?
I should know the name, but it eludes me. But it looks dangerously like a Monstera, which poisoned a whole litter of kittens 35 years ago. And she keeps biting at it, thus the present position.
As if to emphasize the situation, shortly later she vomited an amazing amount of stomach content. These things happen, of course, but since the Monstera paralyses the intestines, it's a concern that maybe she had to vomit it up because there was nowhere else for the food to go.
As I half expected, we had a third battery recalibration starting yesterday evening at 19:45 and going through to this morning at 0:41. Once again it just climbed to 100% charge and then stopped.
So why is this even necessary on days (not today) where the charge reaches 100% anyway?
Off to St John of God hospital again today to see Dr Reddy about Yvonne's Atrial fibrillation.
Came there, as usual, from the north:
Normally that's the entrance we take, but as I discovered last time, in days of COVID-19 we can't get through to the main hospital from that entrance. There's a sign saying so in knee height in a place where you wouldn't normally look:
I told Yvonne so, but she went in anyway before emerging to go round the front. This time, when we entered, a nurse came up to us and said "How can I help you?". I didn't need any help, thanks: I knew where I was going. But no, what she really meant was "what do you want here?", a completely different question, and she insisted that I take a sticker (a different one for Yvonne and for me).
Dr Reddy didn't have that much to say. Yes, the dosage of 125 μg of Digoxin is correct; they frequently prescribe 62.5 μg, and 250 μg is far too much, and it would lower her blood pressure still further. I didn't get much of an answer about why the packaging was 250 μg. But it seems that it wasn't he who prescribed the Digoxin last month, though we didn't find out who did.
Still: blood thinners (proved to be Dabigatran, 150 mg twice a day), diuretics (Furosemide, 20 mg once a day), and an procedure referred to only as DCR TOE, leaving it to Google and me to decipher: DCR is a direct Cardioversion, and TOE is a transoesophageal echocardiogram. I had thought that the procedure was to investigate blood clots, but clearly it's intended to fix the problem if possible. And that will happen on Friday. Reddy appears to be a good doctor, but a little more information could have helped. This page suggests what might happen, but potentially there will be differences.
We also took the blood pressure readings. He agrees with me that the pulse rates are probably inaccurate; certainly they have been in a relatively normal range, while the ECG that she took before the consultation showed a pulse of 110. He disagrees with me, though, that the blood pressure readings are probably relatively correct. But he didn't give a reason for his disagreement.
Last week I was disappointed by the quality of the photos I took with my Redmi 9T round the St John of God hospital. Today we were there again, so I had the opportunity to compare with the Olympus E-PM2. One big problem remained: the photos were taken outside, and the sun was shining. I could hardly see the viewfinder. Maybe I should take the VF-2 viewfinder with me.
And on comparison, the photos I took didn't quite match the photos I took last time. About the only one was of the main entrance:
The second one is the Olympus. There's not really much to choose between the two, except that the aspect ratio looks different: the Olympus is higher, not just because of the cropping. Is that because of the viewpoint?
Yesterday Yvonne showed me this image:
Worth a smile, I suppose. But today, on the way home from Ballarat, we went down Bowes Road in Ross Creek. Google Maps shows the view:
But that was 13 years ago. Since then, the tree has been cut down. But not forgotten:
That must have taken a while.
For some reason, Larissa has not wanted to come walking with us for some time. Yvonne tried various ways of coaxing her, but I thought that we should just leave her to decide to come in her own time. And that has finally paid out:
In general she seems to be more active. Now if she would only stop trying to treat Piccola like a puppy, much would be well.
Our dwarf Tahitian lime (really a kind of lemon, I think) is now 13 years old, and we have never had many fruit from it. This year it's not much different:
But that's more than we have ever had before. Can it be that we have finally found adequate conditions for it?
Larissa is getting much more confident, and today we went for the longest walk yet (still only about 1.3 km). But she would have gone on further.
She's also getting used to the leash, though there are still lessons to be learnt:
Chris Bahlo along this evening to pick up our last horses, Carlotta and Carinita. Yvonne won't be riding for a while, and it's easier to handle them at Chris' place.
Somehow that's the end of an era: we've had horses round the house for 30 years now, since we moved to Schellnhausen. But they'll be back.
The entrance to our house isn't very spectacular:
But looking more carefully (or enlarging the photo), there's a detail that you wouldn't see just anywhere: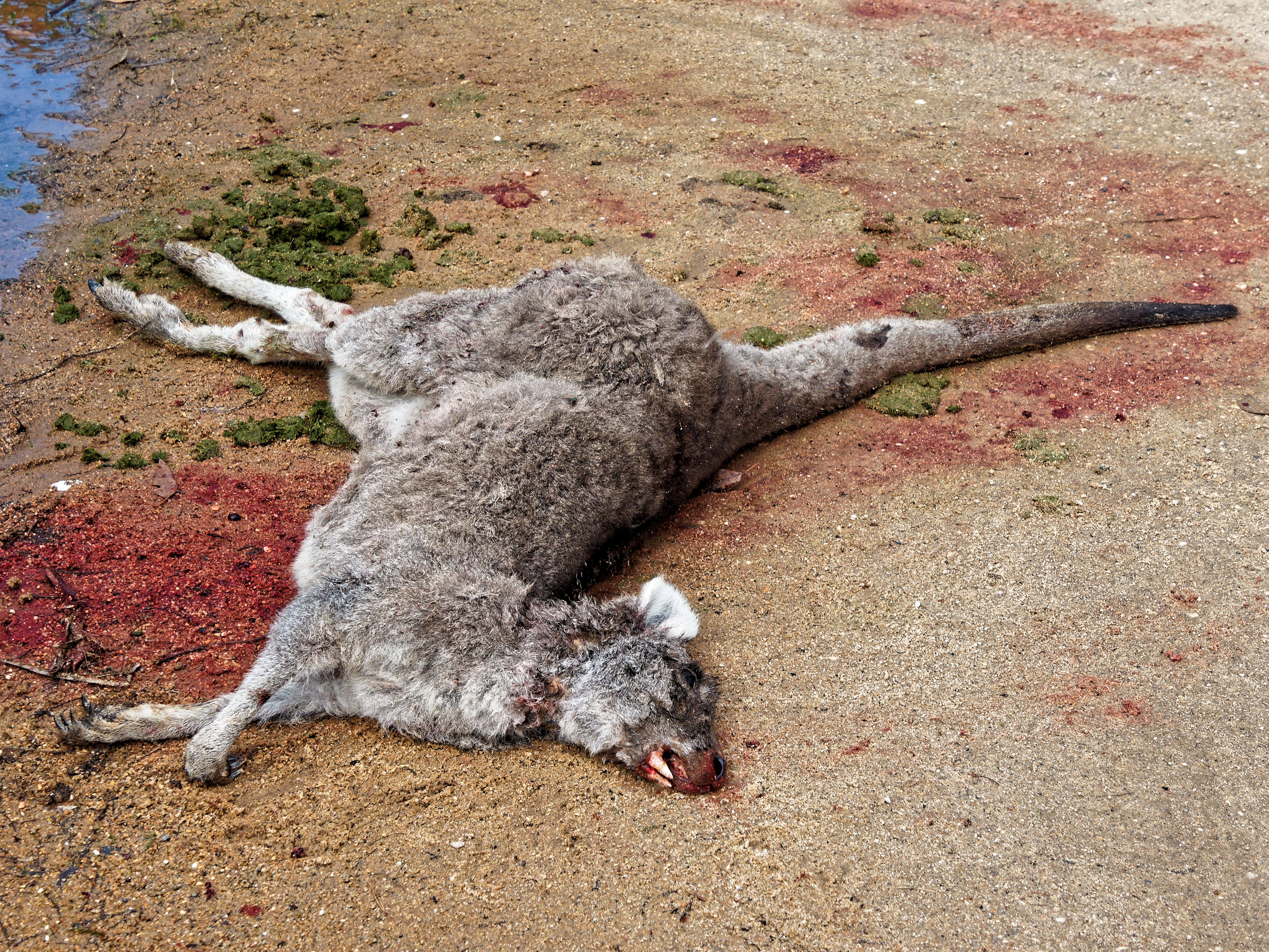 Seen close to the house entrance:
What is it? Is it native? Or did a spore escape from the rubbish bins that we put out nearby?
The issues with walking Larissa seem to be over:
I have really done almost no gardening all year. Somehow it's no fun any more. But I have some bulbs and tubers to plant, so spent something like 15 minutes planting a couple of random bulbs (more Freesia refracta from the nature strip down Stones Road) and a couple of Alstroemeria rhizomes that have probably already died. If they don't grow, they'll provide something like compost.
Into town today to see Mario Cordioli for the long-awaited filling. Things have changed since my childhood, and there was really nothing worth mentioning.
Well, one thing. When I came in, Mario had a camera with a ring flash on his desk. Nothing unusual as that. Years ago I looked at Leela Movva's Canon EOS 600D and flash unit. But this one looked so small!
But it's an Olympus OM-D E-M1 Mark I. And even the accessories are the same as some I have: a M.Zuiko Digital ED 60 mm f/2.8 Macro lens and a mecablitz 15 MS-1 ring flash unit:
About the only difference is in the toy flash on top of the camera. His is black, and for some reason mine is silver. Am I using one for the E-PM1 or E-PM2? I do have a recollection of a black flash unit, but I can't find it. What is definitely different is the cover for the unit. Mine is really just a clip:
So why did it look so small? I have no idea. I should be used to that size.
Mario is very happy with the camera. He had investigated Canon and Nikon, and found them too heavy. With the E-M1, he says, he can hold the camera in one hand and do something else with the other. And unlike me he doesn't have any issues with exposure, so I checked his in-camera flash configuration, but there was no obvious difference there either.
Once again I used Google Maps to navigate to the dentist ("Hey Google, take me to Virginia Williams"), which worked well. Less so on the way back. It took me down Dawson Street and wanted me to turn right onto the Midland Highway:
Sorry, no can do:
That's not the first time a navigator has tried to take me that way.
Back home, Piccola chose an inappropriate time to rub up against Larissa:
That's the best photo I could get under the circumstances, but clearly things are coming closer.
Linsensuppe (lentil soup) for dinner this evening. The recipe calls for 750 g bacon hocks, and we didn't have anything suitable, so I picked up one on my way home.
$9 per kg! And then it was mainly bone. I got about 230 g of meat off it, along with skin and 450 g bone! That makes the meat about $30 a kg, and it wasn't even tender. You can get good steaks for less than that.
Up in the middle of the night (OK, 6:30) to take Yvonne to St John of God hospital. The weather was amazing: temperatures round freezing, and plenty of fog.
Yvonne went for a "DCR TOE", which I had already discovered means direct cardioversion and transoesophageal echocardiogram. I like to think it in terms of car ignition: her heart has been misfiring, and she needed the electrics looked at (TOE) and tuned up (DCR). She stayed there for half a day, and I picked her up round 14:00, apparently firing on all four cylinders. Dr Reddy prescribed her some Flecainide acetate and said that the procedure had been a success, something confirmed by her later blood pressure readings, for the first time without arrhythmia warnings. Hopefully that's over now. At least she feels much better.
When I got up, round 7:00, the weather station was displaying an outside temperature of 0.4°. I went out to measure temperatures with my infrared thermometer and found temperatures as low as -3.4°. What about round my protected Hibiscus rosa-sinensis? -3.1°! That's lower than I expected. On the way back, measured the temperature in the trough round the verandah. -2.7°! But there was no sign of ice on the surface.
I had noticed when walking through the grass (with thongs) that it wasn't frozen, despite the temperatures between -2° and -3°. Clearly the thermometer isn't displaying correct temperatures. And I've been relying on it for years.
It got colder. By the time we got to the hospital (7:45) it was showing -0.4°, the lowest we've seen all year, but not as low as the record for any of the previous years since I've been measuring temperatures here.
Walking round town nowadays requires a lot of QR code reading for contact tracing. Today when entering the hospital to pick Yvonne up, I took my standard image in the hallway. But in the unit where I was to pick her up, there was another one, conveniently located at knee height:
OK, scan:
OK, how do you open the camera?
Showed that to the receptionist, who said "never mind, use the one in the entrance". Somehow that sounds sloppy to me.
Of course, I should have read the entire (too low, too small) text:
So how should they have done it? Certainly a better placed sign, with "this is not a checkin" would have helped.
I was intrigued by the fact that Mario Cordioli had no exposure problems with his mecablitz 15 MS-1, so today when I took the photo of the otherwise uninteresting bacon hock, I tried it again with the mecablitz. First the room flash, then the mecablitz:
That's terrible! 1/250 s, f/8. But it's TTL flash, and the subject is simple and not so close (95 cm) that the flash can't adapt. Tried again with f/16:
That looks better, though despite the ring flash the shadows show how much better the house flash is. But the exposure has nothing to do with TTL measurement; it seems just to be the same flash intensity with a smaller aperture. In that connection, it's interesting to note that Mario has his camera set to f/16. Is that appropriate (could well be) or just working round the exposure problem?
Walking the dogs is always interesting lately. Today neither seemed very interested, though the weather was nice. Particularly Larissa showed her disinterest:
She had, however, found time to hide two of my thongs. Here's one; I haven't found the other one yet:
For years I've had a bottle of Barossa Valley Traminer in the fridge. How many years? I don't know, but it's a 2005 vintage, and my best bet is that somebody gave it to me as a present about 15 years ago, and I've had it in the fridge ever since waiting for a good opportunity.
There's no opportunity on the horizon, so today I decided that today was as good as any, even if nothing can really beat my Jubiläumstropfen last October: a beer exactly 15 years old, on the 30th anniversary of the reunification of Germany.
The real issue is that Traminer isn't my favourite wine. I have recollections of overly sweet German Traminer and Gewürztraminer, and I was prepared for this to not be to my taste. But in fact it wasn't too bad. And now I have more space for other wines in the fridge.
Ultimately I decided not to return hirse, my Redmi 9T. Yes, I wasn't able to get it to stop stopping apps at random, but that was the only real problem (apart from the fact that it was Android, of course). In particular, I liked the touch sensor integrated into the on-off button, And apart from the pain of finding a suitable replacement, who knows what problems a different model might have other irritations. Better the devil you know.
Another good thing about the phone is the very long battery life. In the past I have been charging it every night, but the battery charge level seldom went below 70%. Tonight I left it on overnight without charge. Tried to turn it on, but nothing happened.
Touch sensor problems after all? A bit of messing around, and it came up, very sleepily, showing a charge of 62%. Why so slow? Turned it off. It didn't want to. Put it on charge. Nothing happened. Tried to turn it on again, and the charge display appeared. The whole thing was somehow in slow motion.
OK, reboot. After that it worked normally. What caused that problem? But while I was there, tried a new idea I had had to stop stopping apps: set them to Autostart in the App Info menu (long press app icon). If it should start on boot, how can it justify stopping again? Did that, rebooted, and how about that, all the apps I wanted came up again, after about a minute. Now to see whether they stay. One problem seems to be that what I consider a list of running apps, and which of course has no title, doesn't show all running apps.
Also did a software upgrade while I was at it.
Sonny Rajah sent me some photos a couple of days ago, wanting to know when and where they were taken:
How do I identify those? The first is clearly Jim McGibbon, but I can't identify the girl. The second two are of me, and the fourth I can't identify at all.
And when were they taken? Sonny had labeled them with something relating to 1968, but that's too early. In the second photo of me I'm wearing my Omega Speedmaster ("moon watch"), which I received on my 21st birthday party on 26 August 1969. That happened in Kuching, but it's clear from the radiator in the background that this photo must have been taken in England.
So we're looking for a place in England where Sonny and I spent the night, and which had a relatively modern (for the day) central heating system. That narrows things down to only a couple of possibilities:
So who are the girls? I really have no idea. Could the girl by herself be Lynn Leipnick? The background doesn't look like Greenacres, so it could have been taken on some other occasion.
Sonny has a number of other photos (hopefully in better condition) that cover the period, where my own photos disappeared long ago.
Further archaeological investigations in the pantry brought to light three packets of sauce sachets like this one:
It has almost certainly expired, but when? It should be marked somewhere, probably on the back:
Normally I take photos of things that I can't read, but this time it doesn't seem to have helped. After a lot of messing around with DxO PhotoLab, I finally found it. There it is:
Now if makers are obliged to put expiry dates on their products, they should at least be required to be legible.
Yesterday's experience with hirse, my Redmi 9T, confused me. Why was the machine so slow? Tried again this morning, of course, and also to see how many of the services were still running. The phone reacted normally, but the connection results weren't encouraging:
=== grog@eureka (/dev/pts/6) ~ 521 -> nmap hirse
Starting Nmap 7.30 ( https://nmap.org ) at 2021-07-13 13:10 AEST
Nmap scan report for hirse (192.109.197.228)
Host is up (0.0024s latency).
rDNS record for 192.109.197.228: hirse.lemis.com
Not shown: 997 closed ports
PORT STATE SERVICE
1234/tcp open hotline
That's not very much. The port numbers are silly, since Android won't allow you to use the real port numbers (under 1024) unless you root the device, something that I don't want to try. 1234 is the port chosen by WiFi file transfer, and of course it was running. But what about the others? I also have WiFi FTP Server (port 2121 instead of 21), SSH/SFTP server (2222 instead of 22) and LAN Drive (port 5357). And all but the last are set for autostart. So why are they stopping? I had suspected that WiFi FTP Server might do it by itself. Set LAN Drive to autostart as well. After restarting I have:
PORT STATE SERVICE
1234/tcp open hotline
2121/tcp open ccproxy-ftp
2222/tcp open EtherNetIP-1
5357/tcp open wsdapi

Should I monitor it from a script? It would be interesting to see when they stop.
Seen while walking the dogs today:
That must be the biggest Amyema pendula that I have ever seen, 2 metres or so from top to bottom.
I have bought an Olympus E-1 body, serial number 15490, the newest camera in my old camera collection. It's still usable of course, and I even have 9 lenses for it. Off to Napoleons this afternoon to pick it up
The E-1 has the distinction of being the first ever DSLR designed from scratch; all previous ones were adaptations of old film SLRs. Almost as if to prove the point, it's cut off on the left side:
This is my 9th Olympus digital camera. It was introduced in "late" 2003, according to biofos. That compares with 19 August 2004 for the Canon EOS 20D that I bought for Yana for her 21st birthday, the E-510, introduced in March 2007 and the E-30 introduced in late 2008. Compared to all of these, it has a remarkable number of differences, some of them obsolete features:
The "diopter adjustment" appears to have a smaller range than on later cameras. I can only barely get the image sharp for my old, presbyopic eyes.
The camera came without a CF card, so I used the one from the E-30. It couldn't interpret the existing photos, but it was able to take photos and store them on the card, and later the E-30 could display them.
The incompatibilities didn't end there, though: DxO PhotoLab couldn't understand the raw image, though it understood the TIFF image.
How old is the camera? For that, I need to see the secret menus that all Olympus cameras have. Where are they documented? Google helped, pointing me at my own page. That's really just a summary of other pages, and it only covered the Micro Four Thirds system cameras. I found the information in the Biofos. I have:
Page 2 gives me the shutter release count (R, only 425), number of flash shots (S, 0), sensor cleaning with mirror raised (C, 0) and "Ultrasonic filter count" (U, 67, effectively the number of times the camera has been switched on). So this is an almost unused camera. Page 3 gives me the serial number (CS), model and month of manufacture (MCS: 4001 is the E-1, 412 means December 2004).
While I was at it, I compared the details for the E-30. When I bought it I came to the conclusion that the date of manufacture was displayed as November 2007. But I misinterpreted it: in fact, the code shows that it was made in January 2009, which makes much more sense.
And finally, of course: the firmware revision is 1.1, while the current revision is 1.5. Should I upgrade? The camera is so old that the current software can't upgrade it, and I need to find older versions. Yet another reason not to require special software just to copy files!
The first promise of spring is showing. Seen while driving to Napoleons:
What are they? I should know them. The flowers of the second look like Acacia, but the leaves don't.
Up this morning to discover that the room temperature was round 16.5° instead of the set 21°.
What went wrong there? Took a look at the control panel, and it showed a blinking RUN. That's normally the case when the outside unit turns on and is not yet up to speed. But clearly this had been going on for a while. Turned the internal panel on and off. Bingo! No RUN any more: E17.
OK, do a real power cycle on the outside unit (which, of course, wasn't running). Came back in to find the controller displays going through a series of apparently random displays. And after that, still E17. What does that mean?
"Peripherals Error". That helps, doesn't it? Turned on and off inside again. No change—at first. But then I got an E25. I've seen that before:
"Ambient temperature not updated", a status that apparently goes away by itself. And it did. After that, it ran normally. Called up Mechtrol on 0412 011 320. "You have insufficient funds to make this call".
OK, I knew I was low on credit; it was a question whether the credit would expire (in 12 days) before I used it up, or whether I would finish first. Recharged, discovering that I did, in fact, have a credit of 26¢, more than enough to make a phone call. And to prove that, I had a credit of $15.14 after adding $15 credit and making my call. I wonder if I'll be under $15 by 26 July.
The call didn't help much. Voice mail, though it was interesting to note that my phone did some kind of reverse lookup and displayed the subscriber as "Mechtrol". Voice mail. Left a message. No call back. Called again in the late afternoon after another transient E25. Voice mail. Left a message. No call back.
OK, tomorrow I'll call Actron.
Of course, there's a question: the problem has gone into hiding. What can they do? It's interesting to note that these problems, along with an E05, all have occurred after replacing the controller board. And arguably all of them appear to be communications errors. Could it be something as simple as a loose connector?
I've been horrified by the situation in Israel and Palestine for a long time, but any time I say anything, half a dozen Jewish Israelis jump down my throat and explain with detailed arguments why it's necessary and why it's so different from what happened to the Jews during the Second World War. So I have learnt to shut up.
But today I read an article in the Times of Israel: Poll finds a quarter of US Jews think Israel is apartheid state. That's a surprising number, and it seems to be higher amongst younger Jews. Is there hope yet for peace?
I'm trying to categorize the history of camera technology, at least as seen from my current perspective. It's no secret that camera development has stagnated, and many people blame mobile phones for the situation. But what development is needed? Over the next few days I intend to think aloud about various aspects. Today it's viewfinders and focus.
First, though, an overview. Starting a long way back, with old plate cameras, we have:
By this time we're round 1930 with the Leica I "Schraubgewinde" (screw thread). And in theory only details have changed since. The camera takes standard 35 mm film (arguably it established 35 mm film as a standard), has a shutter and interchangeable lenses. But there's room for improvement. The most obvious was focus assist:
The real thing to note here is how long it took for each innovation to be introduced:
So, are we done? Yes, in principle. Refinements are still possible and necessary. My Olympus cameras with phase-detect autofocus could still be faster, and there are video issues like tracking that don't really fit into this overview. But yes, we're nearly there.
The screen on my new Redmi 9T phone is dirty. But I can't clean it:
It's scratched! I've never seen that on a mobile phone before. And checking shows that the old ones weren't scratched.
How could that happen? I suppose it must have happened when I put my glasses in my shirt pocket up against the screen. But that shouldn't have happened. Why is this glass particularly soft?
Mail from Macquarie today:
From 16 August 2021, we're reducing the daily transfer limit for online transfers across your accounts to $5,000, unless you're using the Macquarie Authenticator app.

We're making this change to further enhance your security, as we've seen a rise in online fraud and scam activity across Australia. Macquarie Authenticator provides a more secure method for verifying payment instructions than SMS.

To transfer more than $5,000 per day, you'll need to download and set up the Macquarie Authenticator app. We've included more information on Macquarie Authenticator below.

So to be secure I need to store access credentials on my phone, which can be stolen, rather than keeping them somewhere where nobody will suspect. And it seems that I can only authenticate by phone.
O tempora! O mores! A good thing that I have never needed to transfer money from them.
We're back in lockdown, for the fifth time since the beginning of the COVID-19 pandemic.
How did we get here? Last time was less than two months ago, but it managed to almost completely eradicate COVID-19 in Victoria. But then infections happened in New South Wales, and some people were allowed into Victoria under strict conditions, including self-quarantine in some cases and, of course, wearing masks.
A total of five people breached these conditions. Three removalists refused to wear masks. Two others went shopping (without mask? I think so, but can't confirm) in violation of the terms of their permit. They infected people, and as I write on the afternoon of Friday, 16 July, we have 36 cases, 10 in the last 24 hours. It seems that the removalists aren't even helping the authorities trace their whereabouts.
So these five people have caused extreme restrictions on a state with a population of 6.7 million. Will they be punished? Certainly, but to what extent? My understanding is that the maximum penalty is a fine of not quite $5,000. Their behaviour reminds me of people who drive while under the influence of drugs or alcohol. In each case they endanger the lives and well-being of others. What are the penalties for drugs and alcohol? According to the Crimes Act 1958, section 319, dangerous driving causing death or serious injury can be punished with up to 10 years' imprisonment. Why should it be any less for what these people are doing? And does catching COVID-19 count as serious injury? I should think so. Section 15 defines it as "an injury (including the cumulative effect of more than one injury) that endangers life or is substantial and protracted".
For some reason I have a surprising number of sauces for Phat Thai, none of them, I suspect, authentic. The one I normally use is an el-cheapo one from ALDI, but gradually the others are getting old. Time to try them out. How about this one?
Does it have any useful recipe suggestions? How can I tell? I can't read it. With photographic help I got
No, that's not much help. In the end, tried it pretty much as with the ALDI sauce: 80 g for a single portion. That worked, sort of. It doesn't taste very interesting.
camera-wiki.org has some interesting pages, some of which I would like to update. But how? I don't have a login, and the login page doesn't offer a way to sign up. Tried a guess, but it seems that it was wrong:
No Groogle. OK, select "create a new account":
Savour that message! You don't have permission because you don't have permission. OK, elsewhere they offer help. Follow that, and it includes another link to creating an account. This one works, sort of:
Huh? Now you see Groogle, now you don't? The answer needs digging up: the help page was from mediawiki.org, and the sign-up page was too.
So, it seems that camera-wiki is dead in the water. As far as I can tell, nothing has been updated in over two years. That's a pity.
Quiche lorraine for dinner tonight:
Far too salty! Why? It seems that it must have come from the bacon. Next time soak it first? How can you tell? The best indication is to use "Schinkenspeck", not bacon.
We have two sets of cordless phones on two different lines: a Uniden 1635 with 4 handsets, bought in October 2014, and a Telstra 12850 with only two handsets in May 2015, mainly for the promise of Bluetooth headset compatibility. The Telstra phone lived up to my prejudices: it felt uncomfortable, had a particularly rasping synthetic voice with US American accent (for Telstra!), and I couldn't adjust the volume with the Bluetooth connection. So I don't use it.
But the battery in one of the Uniden headsets is dead. OK, it can be replaced: $18. That seems a lot, considering that I bought one a couple of years back for $5.25. And how many more will I need to replace? In addition, some of the handset keys stick. Maybe I should replace the whole phone.
A bit of searching showed me a selection of phones, starting at $60 and going up to over $1000. None of them do what I really want, but the cheapest one (Uniden 1735) costs less than the price of the 4 batteries that come with it. In addition, it has a different coloured display that might be more readable than the 1635. And there's every reason to believe that it is electrically compatible with the 1635. That's important, because there are phone numbers stored in the base station of the 1635. Can I couple the 1735 handsets with the 1635 base station? There's at least a fighting chance.
It arrived yesterday, too late for me to pick it up, so off to Napoleons today and picked it up. How do you register the handset? The instructions (PDF) hide the information, but it's towards the end. I read it three times and didn't understand, but when I got them I tried it out. The reason for the lack of instructions is because they come pre-registered to the base station, not what I want. So:
To deregister a handset, press END and # for quite some time (20 s?). A menu appears asking "Deregister HS", though since it's the only entry, that's not clear. If the base station is functional, then that's the one to select. Otherwise page down and select "Base Unavailable". To register a handset, put it in the base station.
That worked fine: I had all 4 handsets allocated, so I first needed to free some old ones. But I forgot, and how about that, I ended up with a registered handset 5. Try again. Handset 6! But that's as far as it went. The base station can handle 6 handsets. And yes, it also keeps the call history and phone book.
So now I have a total of 8 handsets: 6 registered with the old base station, one registered with the new base station, and one without a battery. What do I do with them all? I can use the new base station to replace that horrible Telstra thing. The other two in the bedrooms? That works fine for my bedroom, but we don't have a power point in Yvonne's room.
We're in the middle of another COVID-19 lockdown, and in any case we're supposed to use the Service Victoria app to register where we're going. Did that in Napoleons, and then it occurred to me: this is the ideal place to inform people about current restrictions. Do they?
No:
It gives me (almost by definition somebody living in Victoria) information about how to apply for an entry permit, but not to do when I'm here. OK, Services Victoria, my review (one * out of 5):
This app does its job at a bare minimum. Did they assign the programming to a beginner programmer? Yes, I can scan QR codes (some of them, anyway). But how do I enter my name? When I installed it, I couldn't find out a way (I don't think there is one). It wanted me to enter my name after the first time I used it, standing in a busy entrance. OK, enter a letter, fix it later. But I couldn't!

Then later I tried again. Scan worked, fine. But it didn't register me because they had changed the information they wanted. Now I need to enter two names! And I still can't update it. Also this bug meant that a couple of scans went unrecorded.

Also, isn't this the ideal place to show people what the current restrictions in their area are? Yes, of course it is. But the only information I see at the moment tells me (like most users, in Victoria) how to get a permit to enter from NSW.

As if that wasn't enough, this app doesn't even work on my old Samsung phone. It requires a newer kind of phone. What kind of discrimination is that?

People, you should be ashamed of yourselves. This is a serious business, the idea is good, but the implementation is abysmal.
Larissa is gradually developing, but she's still a puppy, and she's at least as bad as Pedro when it comes to damage. Here the curtains to the verandah:
They're beyond repair. Out they come. I don't care much, but Yvonne liked them.
She has also been having fun with the pot plants, and gradually more and more have escaped to the dining room table:
While writing up yesterday's rant, I noted something new. I didn't include the entire link at the top of the page:
Of course it should be:
And those dots tell any normal human with intuition that there are multiple images there, and that you can select them. With the orange arrow at bottom right? Of course not! Select the button with a small part of a digit. And how about that, there are four more links:
See? I can find out where to get tested for COVID-19, or get vaccinated against "Coronavirus". What more do you want? How to get a solar energy installation rebate or a fishing license (while we're locked down). Who needs more information?
As I said before, the idea is good. The implementation is abysmal.
Seen today, not for the first time:
That mesh round the water tanks is only there to support the Solanum laxum that grows on it, and it's open to the other side. But Lara still hasn't really understood that. I had to go round to the other side, upon which she followed me and came out. This was the second time. I wonder how much longer it will take her.
I've been cooking a number of recipes from Wendy Hutton's "Singapore Food", and on the whole I'm quite happy with the recipes. Today I wanted to cook a mild fish dish for Yvonne, who has a pathological hate of anything in the slightest pedas. There! "Ikan moolie", better known as ikan lemak:
Yes, it wants chilis, but I can leave them out. OK, let's do it.
But how? There are almost no quantities. Of particular interest is the quantity of fish: none!
That kind of error is an exception in the book. But what about the other quantities? This kind of dish lives on the balance of spices, acid and coconut milk. And there's almost no help at all.
On reflection, that's one of the reasons why I am less inclined to try new recipes. It's not the complexity of the recipe: it's the ambiguity. Finally came up with a recipe:
It didn't taste too bad, but somehow something was missing. Yvonne thought that it was too sour, but that's part of the recipe, and it should be at least that sour. For the time being I'll put the rest in the freezer and consider some other time.
The relationship between Piccola and Larissa suffers from communication problems: Lara doesn't understand what Piccola is trying to say when she (Lara) tries to play with her. But she hasn't given up, though she's still cautious:
In the later evening Nikolai wanted to come inside. That's normal, but this time he just stood in the doorway looking at me. When I tried to pull him in, he screamed. There was something wrong with his left hind leg, and he couldn't put any weight on it.
Did he hurt himself? Checked, lifted the leg, no problems. But he couldn't walk on it. Yvonne contacted Pene Kirk and Melissa Wisbey, and the latter said that she would come by tomorrow and take a look. But for tonight there was nothing we could do to comfort him, apart from some painkillers (5 ml of Meloxicam), which didn't seem to do much good.
Nikolai looked no better this morning: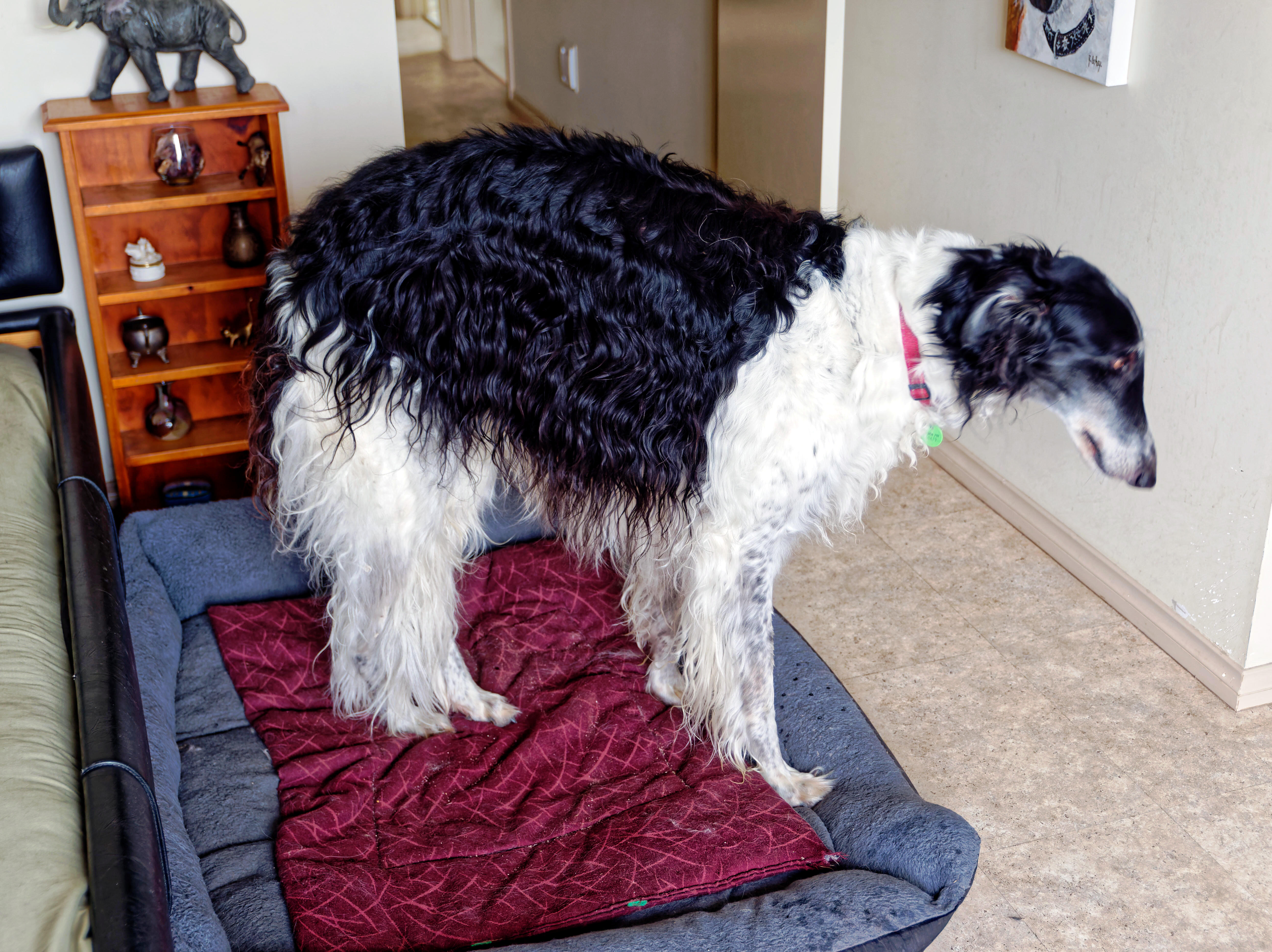 He hadn't left his bed all night, not even to urinate. With some pain he made it to the front door, where Melissa Wisbey investigated him. Wasn't the paw. Cruciate ligament? Hamstring? Dislocated hip? The problem seemed to be in that area, but none seemed to match all the symptoms. And one thing gradually became evident: when he put his paw (the left one) on the ground, it was off to the right, almost every time:
Nerve problems? She gave up, for the first time, and suggested we take him for an X-ray.
Called up Pene Kirk, who also agreed that we would need an X-ray, and thus she couldn't do anything. Called up the Bannockburn Veterinary Clinic (which in the past we have known as the Golden Plains Vet) and persuaded them that he needed to be looked at today, not tomorrow. Appointment at 12:00, not quite 2 hours later.
Off to Bannockburn with a Niko who seemed particularly pleased to get into the car. Arrived early, but we had barely sat down when Kylie Flanagan came and took a look at him. Cruciate ligament? Hamstring? Dislocated hip? The problem seemed to be in that area, but none seemed to match all the symptoms. OK, X-ray.
Half an hour later she came back with the results of the X-rays:
A broken bone! How could that happen? The consistency of the bone mass gave the clue: bone sarcoma. That break would never heal. The same choice we were faced with a few months back: amputate or euthanize. It didn't take long: Niko had a happy life, and he was still sedated. He didn't need to be brought back to consciousness as a mutilated animal. Goodbye, Niko:
After that, off to Ballarat for an appointment with Heather Dalman, who was saddened by the news, but said that similar things could happen to humans. Not in my immediate case, of course: it seems that the epicondylitis is doing about as well as can be hoped.
Latest news today: thousands of mobile phones have been compromised by some method that I haven't read about yet. It even works without a click. Wow!
Is that really surprising? Only last week I was ranting about my concerns with mobile phone security. But then, I'm just an old, progress-resistant fogey. Never mind that I got my first mobile phone more than 30 years ago, and people laughed at me for it.
But this is "military grade" spyware! Yes, pull the other one, it's got bells on. I must say, I would be vaguely interested to know the details, but once they're known (and they will be), it'll be another Microsoft-like series of attempts to plug holes.
Something has caused the traffic planning people to decide that specific sections of road are dangerous, and that they should do something about it. They're widening the road, causing many delays at road works, and now the same areas are getting new road works to install traffic barriers. Or are they guard rails? I've only know the word in German, as "Leitplanke" ("lead plank"). But even that's an old, worn out word for "Schutzplanke" ("protection plank").
But in contrast to the ones I know, which have tapered ends to avoid a frontal collision at the start, these seem to invite it:
Why? The construction is clearly more expensive than just bending the ends away from the road. But they've done some thinking about how to do it. Possibly they're intended as some kind of brake:
I wonder how effective they are.
So what do we do now that Nikolai disappeared so unexpectedly? Larissa is unhappy, of course, and in principle we have always aimed to have two dogs. That's especially important when the only one we now have is a puppy: we haven't had that situation for over 10 years.
But it would have to be a Borzoi, and they're not easy to find. It proves that Karen Nott has another bitch, a litter sister of Lara, but Yvonne is wary of having two bitches, who can easily live up to negative connotations of the name.
And there are no other puppies. But Karen came up with another possibility: an 18 month old dog who was coming back because the owner was concerned that he was too strong for her. Where is he? "West of Melbourne". I joked with Yvonne that he was probably down the other end of Stones Road, but that's ridiculous: after all, about ⅔ of Victoria, 160,000 km², is west of Melbourne.
More details: her name is Peggy, and she lives in Buninyong. Not quite the end of Stones Road, but the same direction and only 20 km away. Spoke to her on the phone once she managed to get out of a wind that made her completely unintelligible, and it seems that he does indeed have problems. In any case, he's just down the road—Yvonne will be going within 5 km of Buninyong tomorrow to do her shopping—so we arranged to take a look at him and see what his problems are. She would be overjoyed to find a way to keep him, so it could be worthwhile either way.
It's a month after the solstice, time for the monthly garden photos. I've been keeping a particular eye on the Hibiscus rosa-sinensis, and so far, despite a couple of really cold nights, it seems to be doing well enough:
That's certainly looking better than this time last year:
The Tahitian lime is also bearing more fruit than ever before:
Unfortunately, they're still very hard. Will they get better?
And then there's the sum total of all the chilis I planted this year:
A single chile de arbol plant. And to add insult to injury, they don't taste very good: far too mild, and I'm not overly keen on hot chilis.
Despite the haircut last month, the snowflakes are recovering, and it seems that we have more bulbs on their way than in previous years:
Off to Buninyong today to take a look at George, Peggy Naumov's Borzoi. Yvonne had arrived a couple of minutes earlier, and they were standing outside:
A nice-looking dog. But Peggy was right when she said that he was timid. In fact, he was terrified. I couldn't come closer to him than about the COVID-19 regulation 2 metres (or was that 1.5?). We took a walk around the block, and the whole time he was really tense and afraid. On return, he looked ready to run away at the earliest opportunity:
But what is his problem? He's terrified of things coming up behind him, so it seems reasonable that he has some traumatizing experience that he can't get over. But where? I can't imagine it happening at Karen Nott's place, and he's completely at ease with Peggy, so it can't be anything to do with her.
Clearly he's not a candidate for us. In fact, I don't think there's any hope for him anywhere else until he gets rid of his fear. He's OK with Peggy, and she really wants to keep him, so the obvious thing to do is to find a way to address his problems. Yvonne gave her a number of contact addresses, notably Catherine Hamilton; hopefully she can do something.
Were we even allowed to go to Buninyong to look at George? We're subject to yet another "lockdown". Common sense says yes, no issue, as long as we stay outside, wear our masks and don't come too close too close to other people. But that doesn't interest bureaucrats: they live by the Rule Book.
But where is the Rule Book? Once again off looking. https://health.vic.gov.au/ sounds like a good address to start. But:

WHAT? Security issues on a high profile government site? They can't even keep their certificates up to date:
What complete incompetence! After accepting the "risk" to my non-existent data, found nothing relevant:
Only two hits on a search for "lockdown": "Public reporting on the Victorian Ombudsman investigation into the lockdown of 33 Alfred Street, 30 Jun 2021" and "N-ethylpentylone in cocaine, 23 Dec 2020". No mention of by far the biggest health threat of the past 10 years!
OK, nobody can accuse me of not doing due diligence. Heather Dalman was complaining about that too on Monday, but both her company and the vet were allowed to operate, though that wasn't mentioned in the news reports. So I assume that looking after a distressed dog should also be allowed. But what are these people thinking?
Peggy Naumov lives in Buninyong, slightly off to the east of the Ballarat-Colac road that we normally take. Getting there usually goes via Napoleons, but there's also another way via Mount Mercer:
OK, I drive down the Ballarat-Colac Road all the time, and currently there are road works to slow things down. Selected the Mount Mercer variant and set off with Google Maps guiding me. But it wanted me to stick to the main road.
OK, turn towards Mount Mercer, and sure enough, it recalculated the route. But half way to Mount Mercer, it wanted me to turn right (south)!
What's that for? Zooming out showed:
What kind of nonsense is that? It knows about the route via Mount Mercer (but not how to pronounce it; it calls it "Mountain Mercer"). Maybe because I had mobile data off? OK, turn it on and continue. But I wasn't done yet: about ⅔ of the way from Mount Mercer to Buninyong it wanted me to take some bizarre detour:
Somehow we're not there yet. I'm puzzled.
Into the office this morning to find both my IRC windows unable to connect to the remote proxy. What, off the network again? No, all seemed OK.
OK, bip is old, worn-out software (even Wikipedia doesn't seem to know about it), and I'm continually restarting it. That was the case today, too, and putting it into a restart loop seemed to fix things. Problem solved?
Not quite. Checked and found:
=== grog@lax (/dev/pts/0) ~ 1 -> uptime
12:24AM up 7:58, 1 user, load averages: 0.28, 0.38, 0.34

8 hours uptime? Something has clearly gone wrong. Yesterday's log summaries included:
Local network system status:
lax up 638+00:25, 0 users, load 0.26, 0.46, 0.47

The dreaded crash! At least it was lax (only 638 days, not quite 21 months) and not ffm, which has been up for nearly 3½ years:
=== grog@ffm (/dev/pts/0) ~ 5 -> uptime
12:27AM up 1263 days, 9:30, 2 users, load averages: 0.43, 0.46, 0.42

How did it recover? Well. Apart from bip, everything seemed to be running. But I got a whole lot of strange mail messages from lax, 32 in total:
1 N + 11-11-2019 To grog@lemis.c ( 6) World Wide Web Owner N + FAILURE: /grog/Day/20110319/index.php <- http://www.lemis.com/index.php
2 N + 27-11-2019 To grog@lemis.c ( 6) World Wide Web Owner N + FAILURE: /grog/Day/20190902/Trauma <- http://www.lemis.com/grog/Day/20190902/Trauma&
3 N + 27-11-2019 To grog@lemis.c ( 6) World Wide Web Owner N + FAILURE: /grog/Day/20190902/Trauma <- http://www.lemis.com/grog/Day/20190902/Trauma&
4 N + 27-11-2019 To grog@lemis.c ( 6) World Wide Web Owner N + FAILURE: /grog/Day/20190902/Trauma <- http://www.lemis.com/grog/Day/20190902/Trauma&
5 N + 27-11-2019 To grog@lemis.c ( 6) World Wide Web Owner N + FAILURE: /grog/Documentation/CFBSD/&quot; <- http://www.lemis.com
6 14-01-2020 To operator@lax ( 1) Cron Daemon Cron <operator@lax> /usr/libexec/save-entropy
7 N + 15-01-2020 To grog@lemis.c ( 6) World Wide Web Owner N + FAILURE: /grog/programs/emacs/small///1.jpeg <- http://www.lemis.com/grog/programs/emacs/dot.emacs

Look at those dates! The oldest is over 20 months old. To the best of my knowledge I have had no mail issues that would explain that. I'm baffled.
Clearly George was not a candidate to replace Nikolai, and he made one thing clear: an older dog can have baggage. In principle we need a puppy, preferably in Larissa's age, so that they can grow up together. And there are none: when we bought Lara, she was the only puppy available. Yvonne did some calling around and established that the next litter than anybody would have would be in about 2 weeks' time. That would mean that we could get the puppy round the end of October, rather longer than we would want Lara to be alone.
And then Karen Nott came up with news: Lara has a littermate sister, but Karen had wanted to keep her. Now she has changed her mind, so she's available, and clearly the same age as Lara. Only problem: Yvonne was concerned that two bitches would not get on well together. Asked a question on the Facebook Borzoi in Australia list and got unanimous replies that people had had more than one bitch and that they got on well together.
OK: do we really have to pick her up in Stratford? That's 371 km each way. Nobody going to Melbourne this time, says Karen, but there are a couple of dog taxis. Clearly they're going to charge an arm and a leg, but let's see...
Two calls, first from the cheap bloke ("if you pick her up in Ballan, only $400") and then from Heath, the more expensive one ($600 all the way). Both were prepared to bring her tomorrow. So I told him of my offer for $400, and he immediately matched it, so I took him. Called back the first bloke, who was immediately prepared to drop to $350 to our doorstep. Seems he was going to the airport anyway, so it was rather a high price by comparison. But I was left with the impression that there was considerable space for negotiation.
So: pay for the dog, now instantaneous once I found the account number. In a couple of hours we had the whole thing sorted, and she'll be here tomorrow.
The whole thing? We still need a name. We've had Tanya and Larissa already; what else are there? After much consideration arrived at Lena. Well, Лена, but that's pronounced Lyena. And Yvonne wanted Lena (Лэна). Why? She's so careful with pronunciation otherwise.
I forget how I managed it, but after some searching I found https://www.coronavirus.vic.gov.au/coronavirus-covidsafe-settings (savour that "coronavirus" along with the unexpected page title), which seems to have details of the current restrictions. They're still subject to interpretation, but potentially they mean that we shouldn't have visited George yesterday. Sorry, people, if you make it impossible to find the restrictions, you can't expect anybody to abide by them. And that's a real shame.
As if to amplify the point, heard from Malcom Caldwell, who points me at https://www.coronavirus.vic.gov.au/how-we-live (on the same site), which has at least partially the same text, but there is different additional information. And once again the page title is completely unexpected. When will they ever get their act together?
Somehow we've been really busy this week, as this diary confirms. In principle I can measure the amount of work based on when I submit my diary for the previous day; it can range from mid-morning until evening. But today I discovered I hadn't submitted yesterday's diary at all!
As planned, and with good communication, Heath and wife Nicky arrived at about 11:50 with Elena:
She was a little confused at the beginning, as one might expect, but she quickly became acquainted with Larissa:
She even made friends with Piccola, who approached her almost immediately:
Pretty soon she was jumping for joy:
But she still didn't feel like playing with Lara:
She was quite subdued all day long, not surprisingly. Of course she's nearly 5 weeks older than Lara was when she arrived, and much livelier than Lara was. I suppose it will take a few days for her to feel at home. Not surprisingly, she didn't want to come for a walk with us, especially as we didn't have a harness for her, so we'll put that off for a few days.
Compared to Lara, she has a lighter coat, lighter than we expected, but she promises to have a very pretty adult colours. She's also taller and somewhat better fed. Have we been neglecting Lara? No, we have the weights from the last vaccination (4 May 2021 and 19 June 2021): Lara 4.43 and 11.8 kg, Lena 4.75 and 12.2 kg. They'll be desexed next week, so we can get more weights at the same time. I'm guessing they're round 18 to 20 kg now.
Having Lara around had more advantages: she learnt a lot of things that we had to teach Lara when she came, and Piccola had less attention than she had had over the last few days. By the end of the day, she still wasn't running around the way Lara wanted, but they clearly feel well together:
We've (almost) always given our borzois Russian names, and in the past that wasn't an issue. I suppose that after Leonid the second it was time to stop using the names of czars, even if we had taken another male. I briefly considered Ekaterina (Екатерина), but it doesn't sound right for a dog. Last month we had little difficulty choosing Larissa (Лариса; arguably we should be spelling it Larisa) for the first bitch, but it took us a long time to come up with a name for the second. And just when I thought all was well, we ran into an issue of Russian vowels. There are 10 of them, 5 each "hard" and "soft", though I had learnt the term "iotization", which appears to be almost defunct and only refer to Greek. The important thing is that the soft vowels have an initial y sound, so Еле́на should be pronounced something like Yelyena (or, in German, Jeljena). We had agreed to shorten the name to Lena, but that's still really Lyena.
Yvonne doesn't like that. Why not? I can't get any satisfactory answer. In the past we have always gone to trouble to pronounce names the way a native speaker would say them, at least as far as we can. On the other hand, there's a long tradition of mangling Russian names. Ле́нин (Lenin) should be pronounced Lyenin. And I have never heard or seen that name pronounced or written that way. And Chris Bahlo called her Borzoi (whom, by coincidence, she got 6 years ago today) Fedor instead of the more correct Fyodor (Фёдор), something that still irritates me.
I have offered my old gas cooker on Freecycle, and I have a taker, who will pick it up on Wednesday as soon as the lockdown is over.
Wednesday? Is that the date? I now have not one, but two official lists of regulations. What do they say? Nothing!
People, will you ever get your act together?
A new dog always takes some time to acclimatize. But it seems that Elena is doing it very quickly, probably because she's following the example of Larissa. It's not instantaneous, though: she's surprisingly timid, and she still doesn't really want to play with Lara. As a result, we're treading lightly with teaching her things like not going into the kitchen.
Message from Vultr today:
Date: Fri, 23 Jul 2021 14:52:08 -0400
From: "support@vultr.com" <support@vultr.com>
Subject: Host Node Reboot

Regarding the following subscriptions:
4096 MB Cloud Compute - 45.32.70.18 (lax.lemis.com) in Los Angeles

Our monitoring system indicated an issue with the hardware node hosting the instances listed in this email. Our engineering team has investigated the issue and initiated a restart of the host node in question.

That took them a long time! The failure was at 16:26 on 21 July, nearly 2 days earlier:
Jul 21 16:26:53 lax kernel: ---<<BOOT>>---

Normally I wouldn't have paid any attention to that, but then I discovered that my IRC proxy wasn't working again. Another crash!
Jul 23 18:51:29 lax kernel: ---<<BOOT>>---

But this time they seem to have noticed—in fact, after normalizing their strange time zone, it seems that the message was dated 39 seconds after the boot started—so let's hope they have fixed the problem.
Still more irritating advertisements on the web today. Oh. One was not an advertisement, just an inappropriate way to draw my attention to the fact that there will be a census next month. Followed the link and found this information, including:
If you don't have a Census number, you will be able to ask for one online. You will need to use a mobile phone for this.
Now what earthly reason do they have to restrict the access to mobile phones? Sometimes I think everybody's going crazy.
Decades ago—at least 30 years—I built a state-of-the-art TV/HiFi setup. Two video recorders, two satellite receivers, and of course a TV. What wasn't available on the open market was a method to interconnect them, so I built my own based on switches and amplifiers available from Tandy. As the years went on, the satellite receivers went, TiVo and DVDs came, and I modified the box accordingly:
Then came computer-based multimedia, and some time round 2004 the box became superfluous and ended up in the shed.
But now I have the issue again: sound output from computers to the amplifier in my office. In principle I only need one input, from eureka, but there are other computers there too: dereel, distress and dischord. So it makes sense.
Put the thing together and it worked as planned for dereel and eureka. But not for distress, though it went through the motions. My guess is that Microsoft has determined that sound should not work when running in remote desktop mode.
There were a number of demonstrations round the country and round the world yesterday, protesting against the lockdowns. "Not with us, you don't". They want the lockdowns and other restrictions ended immediately, like they were in the United Kingdom. As a result, they have potentially started a "superspreader" event, endangering the planned (I think) end of the lockdown in Victoria on Tuesday 23:59. Clever, aren't they?
Found a large puddle of urine in the hallway next to the garage this evening. Must have been Elena; we haven't had anything like that from Larissa for a couple of weeks. But looking at the size, I think it was once again a communication failure: she didn't know how to tell us that she wanted to go outside. We'll have to let her out more frequently.
Up this morning round 8:00 and to the toilet. Sat down. The lights went out!
Another bloody grid power failure. In to my office to see what was going on, but it seems that the UPS had also failed. All I had was my phone. Called up Powercor and worked my way through the voice menu to find that yes, they know about a power outage, they were trying to establish the cause, and estimated restoration time was 10:00.
That's their standard uninformative narrative. The only thing of interest is the estimated restoration time. That's 2 hours after the failure, but it was currently only 8:10. When did the power fail?
OK, check the web site. That's https://www.powercor.com.au/, far too long to type in on this horrible glass keyboard. How about my home page? http://wwww.lemis.com/grog/index-local.php wasn't accessible, but http://www.lemis.com/grog/index-local.php was. Only it wasn't set as my home page. Spent minutes typing in what should have taken seconds, and was then asked if I wanted the web site or the app: it seems that I have an app installed on my phone, conveniently called Outages so that I can't find it easily. And it gave me an outage map that I think I'm gradually getting to understand:
No, that red region doesn't show the area affected by the outage. It shows Australia Post's strange borders of our post code (3352). The areas affected are marked with a red exclamation mark. Well, some of them, anyway: Dereel is clear on the map.
And while I was torturing myself, the power came back. Only 30 minutes, too short for Ingeteam to bother reporting. But the air conditioner had been going flat out to warm up the house, using about 4.5 kW, and it drained the PV batteries in 13 minutes:
The sun was shining, and it started charging the battery immediately, but it wasn't until the power returned at 8:26 that we had enough power to do anything with. Once again I'm wondering how to power down the air conditioner when there's a grid failure.
I've had no fewer than 3 outages in the last week: two of the remote server lax.lemis.com, and then the results of the power failure today. Gradually things are coming up more easily, but I keep making notes in my after boot page and then forgetting to do anything about them. The really big one was setting the keyboard for teevee, now that X won't do it automatically, and today I once again found myself in a maze of little twisty passages, all different, finding the right .xmodmap file, not helped by the fact that when I chose the wrong one, I effectively had to reboot to reset to the correct starting point. But I have it, and it's simple: despite all the messing around I did last year, it's the same file I have been using for decades. The only issue is that X won't apply it on startup.
And then I got a message from Stephen Rothwell, showing log messages from bilbo.ozlabs.org:
Jul 26 14:11:02 bilbo named[1733]: transfer of 'lemis.com/IN' from 45.32.70.18#53: failed to connect: connection refused

Oh. 45.32.70.18 is lax.lemis.com, though in this case ns1.lemis.com. No named? Right. Started that and all was right. But this meant that I had somehow survived for several days without a primary name server.
What other surprises wait in store?
Into town to see Dr Rodney Reddy today about the results of Yvonne's tuneup (really a "DCR TOE" or direct cardioversion and transoesophageal echocardiogram). As we had expected, all was well, and he prescribed her an even lower dosage of Digoxin: instead of the 125 μg (½ tablet) only 62.5 μg (fortunately smaller tablets; cutting the big ones in half was bad enough). Also some other stuff that the pharmacist refused to fulfil: it seems that she has had them prescribed by Paul Smith already, but she hadn't told Dr Reddy that. So now she needs an echocardiogram, for which there is a long waiting list, so not much will happen until September.
Yvonne's appointment was at St John of God hospital again today. In the past they have made it difficult for me to get in, but "you ain't seen nothing yet". I can no longer check in with the Service Victoria app, not because it's broken, but because they don't want you to use it:
Huh? How is that supposed to work? A camera is a camera, not a QR scanner. And of course it didn't work. Somebody else came by, and it worked for her, but she was from the hospital staff, and it's not clear how long it took her to get it to work. But what kind of nonsense is that?
In the end, with bad grace, signed in manually, and had to read two pages of questions and answer "no" to all of them before I was allowed in:
It includes links! How do I know where they are? Lois, the receptionist, confirmed that there were no locations round Ballarat. She was clearly also irritated by the system.
On our way to the hospital, Yvonne had asked me how to translate St John of God into German. I didn't know, and I considered the possibility that he might be identical with John the Divine, in which case the entry ritual reminds me of The Book with Seven Seals. But no, a different St John: this one was a carer for the sick only about 500 years, and in German he's called Johannes von Gott.
Back home, discussed the matter on IRC. It seems that more recent camera apps do in fact include a QR scanner. What a ridiculous idea! How many potential security breaches does it allow? And once again a decision made for the 80% of people (according to Lois) who can use it. I'm baffled.
But if it's just a scan application, I have one of those. Tried that on the photo on my screen. Yes! Why can't the checkin instructions say that? Clearly the staff don't know either.
OK, "check in". "Please enter your full name and phone number". Another requirement that is just plain stupid. If they want to contact me, they should save the phone number or IMEI number, not make me mess around with keyboard substitutes while standing in the hallway of a hospital.
But that was just the start. I had to answer all the questions on the sheet individually, again selecting the answers with a button.
People, what is wrong with you? You're supposed to be getting cooperation, not annoying people. And the information is useless. I gave an incorrect phone number, just to see if it was checked for. No. Hopefully the owner of the number won't get annoyed by the COVID police.
The Services Victoria app is broken in many ways, but at least it enables contact tracing. Does this weird system do anything like that? It certainly doesn't do anything additional that's of use. And it's so complicated that, unlike with the Services Victoria app, it's easier to check in manually, especially since even that is so complicated that the receptionist does all the work.
In passing, once again I'm amazed by the poor quality of the images I took with my camera. Many have so much camera shake as to be almost useless. The photo of the questionnaire is barely legible, but it was taken at 1/50 s, which shouldn't have been an issue. Is it maybe related to the shape of the phone?
In town, went to the toilet next to Big W, which is full of signs like this:
Arguably public toilets are a particular exposure risk. OK, I'll scan.
No I won't. There's no QR code there, let alone a sign-in book.
I'm running out of expressions of disgust.
Received a couple of 4 GB CompactFlash cards today, only 12 days after ordering them. By contrast, the phones that I ordered at the same time arrived 10 days ago.
One was for the Olympus E-1, and the other a spare in case I need it. Put one in the E-1, and it worked fine.
OK, how about trying it out in the Nikon "Coolpix" 880? I found an old 2CR5 battery which I must have bought before I stopped using the camera, about 16 years ago. The expiry date was 2015, so I tried it out. It worked, but the camera didn't like the CF card, and asked me to format it. OK. "Card is not formatted". My guess is that it's too big for the camera (which came with an 8 MB card, and for which I bought a 48 MB card; those were the days), though arguably it just needs an old-fashioned file system.
Now where did I put that 48 MB card? Did I give it away when I sold my first E-30?
Tried to start an xterm from teevee on eureka this morning. No reaction.
Huh? Problems with the system? Not directly. It was maxing out the disks doing an rsync. Why? The only one is the one at 4:00 every morning, and it typically runs for about 10 to 15 minutes. But further examination showed:
Filesystem 1048576-blocks Used Avail Capacity Mounted on
...
/dev/da2p1 3,815,019 1,991,615 1,785,253 53% /dump
/dev/da0p1 7,630,093 7,629,994 -76,201 101% /backups
/dev/da1p1 1,907,067 1,906,906 -152,404 109% /videobackup
/dev/da3p1 7,629,565 5,794,996 1,758,273 77% /photobackup

That's very wrong. /videobackup has "8" TB (shown as round 7.6 TB in the list), /dump has 2 TB, and /backups has 4 TB. The disks are mounted on the wrong mount points, and teevee was trying to rsync the entire 8 TB to what should be the /dump file system.
That's a problem with USB-mounted disks. They get detected in the order in which they come up, and that appears to be random. What I need is a way to identify the disks based on their label. There's something there: mount mentions a "last mounted on" field, but I don't know how to get it to remount in the same place. In the past I had rewritten the fstab entries to hopefully do the right thing, but that doesn't work from one power-up to the next. For the time being, one more entry for my afterboot page: check the disks and remount if necessary. Irritatingly, that also entails remounting the NFS mounts on other systems.
Yesterday I established, inter alia, that my almost brand new Xiaomi Redmi 9T phone didn't scan the QR codes at St John of God hospital, while most modern phones do. Why not?
Took a look in the "Settings" for the camera and found:
But it was already turned on! Why didn't it work? Messed around a bit with the display. In particular, what do these symbols at the top mean?
Pressed the second one from the right and got this display:
So it does work, sort of, using "Google Lens". Reading the Wikipedia page clarifies that the meaningless symbol is the one chosen to represent the app. And arguably it's better like that: if you want to scan something, it should be a conscious decision, not something that the phone camera throws at you. But that still makes the checkin at St Johns completely misleading.
Another puddle in the bathroom this evening. We blame Elena. We'll have to keep more of an eye on her.
It seems that just about everybody has a Virtual private server nowadays. I have two, one in Los Angeles and the other in Frankfurt am Main. They're not expensive, though storage is. But discussing on IRC today, I discover that prices are dropping radically, and you can now get servers for as little as $2 per month. For future reference: https://letbox.com/page/box, https://lowendbox.com/ and https://vpsfree.org/. My guess is that the prices will continue changing in both directions; letbox is currently "out of stock" of its $2 servers.
There's something about git that terrifies me, but it's getting to be time to finally come to terms with it. There's a primer in the FreeBSD Committer's Guide, but it's a little uneven. I'm keeping my experience in a living with git page, which is currently far less complete than the primer.
I originally cloned a source tree on dereel last month, and the instructions tell me to run this involves the invocation
=== grog@dereel (/dev/pts/3) /usr/src 5 -> git pull --ff-only
remote: Enumerating objects: 96495, done.
remote: Counting objects: 100% (96493/96493), done.
remote: Compressing objects: 100% (32349/32349), done.
remote: Total 96283 (delta 70323), reused 83713 (delta 63215), pack-reused 0
Receiving objects: 100% (96283/96283), 82.07 MiB | 557.00 KiB/s, done.
Resolving deltas: 100% (70323/70323), completed with 157 local objects.
From ssh://gitrepo.FreeBSD.org/src
4a4a174959c..c3c458ce3c9 stable/13 -> freebsd/stable/13
d40cd26a86a..941650aae97 main -> freebsd/main
a4deddc0de3..7fe589000ce releng/11.4 -> freebsd/releng/11.4
...
03ee4d05f1d..746b7396bb3 vendor/one-true-awk -> freebsd/vendor/one-true-awk
error: cannot lock ref 'refs/remotes/freebsd/vendor/openzfs/legacy': 'refs/remotes/freebsd/vendor/openzfs' exists; cannot create 'refs/remotes/freebsd/vendor/openzfs/legacy'
! [new branch] vendor/openzfs/legacy -> freebsd/vendor/openzfs/legacy (unable to update local ref)
...

What does that mean? It looks nothing like updating the single branch (freebsd/stable/13) that I checked out. It also didn't update anything. In the end, I just cloned the whole tree again. What a pain!
Today was Yvonne's shopping day, but only shortly after she left she called me up: she had had an altercation with a dustbin, and lost. It seems that she approached it at round 50 km/h and hit it with the left door mirror, which then looked like this:
Not much we can do there. She dropped in at the workshop in Sebastopol, where they were able to get a new mirror, but not before she came home.
The Olympus E-1 has a standard mini-USB connector, and finally I have new cables. Tried reading the data on dereel today:
(ada0:ahcich0:0:0:0): WRITE_FPDMA_QUEUED. ACB: 61 40 a8 46 5b 40 13 00 00 00 00 00
(ada0:ahcich0:0:0:0): CAM status: Uncorrectable parity/CRC error
(ada0:ahcich0:0:0:0): Retrying command, 3 more tries remain
(ada0:ahcich0:0:0:0): WRITE_FPDMA_QUEUED. ACB: 61 00 e8 c9 df 40 13 00 00 03 00 00
(ada0:ahcich0:0:0:0): CAM status: Uncorrectable parity/CRC error
(ada0:ahcich0:0:0:0): Retrying command, 3 more tries remain
(ada0:ahcich0:0:0:0): WRITE_FPDMA_QUEUED. ACB: 61 00 e8 92 cf 40 13 00 00 03 00 00
(ada0:ahcich0:0:0:0): CAM status: Uncorrectable parity/CRC error
(ada0:ahcich0:0:0:0): Retrying command, 3 more tries remain
(ada0:ahcich0:0:0:0): READ_FPDMA_QUEUED. ACB: 60 c0 e8 f3 a8 40 19 00 00 02 00 00
(ada0:ahcich0:0:0:0): CAM status: Uncorrectable parity/CRC error
(ada0:ahcich0:0:0:0): Retrying command, 3 more tries remain
(ada0:ahcich0:0:0:0): READ_FPDMA_QUEUED. ACB: 60 00 68 86 3f 40 0f 00 00 08 00 00
(ada0:ahcich0:0:0:0): CAM status: Uncorrectable parity/CRC error
(ada0:ahcich0:0:0:0): Retrying command, 3 more tries remain
Limiting closed port RST response from 205 to 200 packets/sec
(ada0:ahcich0:0:0:0): WRITE_FPDMA_QUEUED. ACB: 61 40 28 1b 34 40 13 00 00 00 00 00
(ada0:ahcich0:0:0:0): CAM status: Uncorrectable parity/CRC error
(ada0:ahcich0:0:0:0): Retrying command, 3 more tries remain
usb_alloc_device: set address 5 failed (USB_ERR_IOERROR, ignored)
usbd_setup_device_desc: getting device descriptor at addr 5 failed, USB_ERR_IOERROR
usbd_req_re_enumerate: addr=5, set address failed! (USB_ERR_IOERROR, ignored)
...
usbd_setup_device_desc: getting device descriptor at addr 5 failed, USB_ERR_IOERROR
ugen0.5: <Unknown > at usbus0 (disconnected)
uhub_reattach_port: could not allocate new device

What's that? Parity errors? Tried it later on distress, a Microsoft box, which had no difficulty. But then I connected it to dereel again, and it worked there. Is this an issue with the camera or with the cables?
The new dogs are a whole lot more active than the ones we had at the beginning of the year, and they're making a real mess of the garden:
Time to fence things off.
On the other hand, they're also tidying up. The gardeners hadn't finished the central bed to the north of the house last time, leaving behind dead stalks (of gladioli, I think), and the dogs have removed some of them: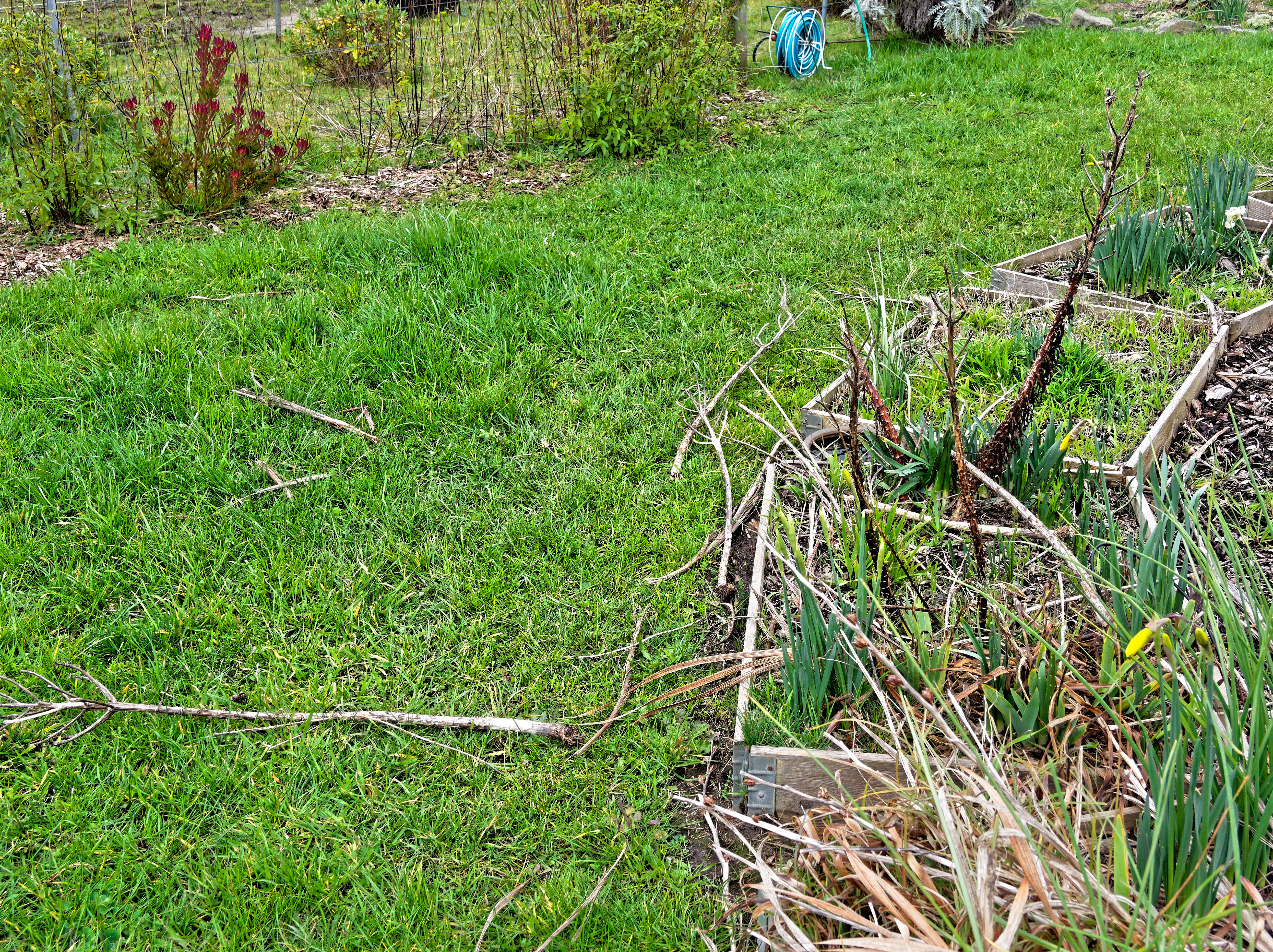 Off with Larissa and Elena to Pene Kirk in Cape Clear for their third round of vaccinations, the full complement including CCoV (coronavirus). All went well.
It's been over 5 years since I replaced my standard camera strap connection with something cannibalized from various promotional lanyards:
They work, but the strap attachment is too small. I later found a couple (but no more) with wider attachments, but forgot to mention it. And on Monday I checked in town at the Reject Shop, who used to have lanyards, but they don't any more.
OK, eBay is your friend. Spent hours this afternoon looking for appropriate clips, and finally found these:
Will they do the trick? The strap attachment seems almost too wide, but it should do the trick. So I've ordered 10 of them for the princely sum of $3.80, plus the value of the time I spent investigating them.
Only yesterday we had the third CCoV (coronavirus) for Larissa and Elena, and today there were more: the second SARS-CoV-2 (coronavirus) vaccinations for Yvonne and myself. Then, hopefully, it will be over.
On the way home from Ballarat, picked up yet another DSLR, an Olympus E-330, serial number B91501815, along with a Zuiko Digital 14-45 mm f/3.5-5.6 lens, serial number 102421030.
What's special about this camera? There's certainly nothing special about the lens except that it appears to be a considerably larger predecessor of the 14-42 mm f/3.5-5.6. But the camera is the very first DSLR to have "live view", a viewfinder display on the rear panel. It uses a side-mounted partially transparent mirror and a second sensor behind it. It's interesting for a number of reasons, including how much more modern it looks than the Olympus E-1, though it was introduced only 2 years later. By comparison, it looks very similar to the E-30 that was introduced another 3 years later.
I'll have to find some time to take photos and compare the cameras, but this one looks almost usable in a way that the E-1 doesn't.
Ozlabs are going the way of progress and shutting down bilbo, our venerable machine in Canberra. Instead we're going to a VPS. That will doubtless save a lot of money and probably improve availability, but of course disk space is relatively expensive. Stephen Rothwell contacted me and asked me if I really needed those 90 GB of files I had on the system.
Almost certainly not. They date from when I hosted www.lemis.com on bilbo, but that's years ago now. I would have removed them long ago, except: am I really sure that there's nothing there and nowhere else?
OK, tar and feather them and move them here. Oh. There are only 40 GB of space on /var/tmp on bilbo. OK, bandwidth is now free. rsync them across.
=== grog@dereel (/dev/pts/2) /src/bilbo 7 -> Log rsync -Havx bilbo.ozlabs.org:/home/grog .
===== Thu 29 Jul 2021 13:40:57 AEST on dereel: rsync -Havx bilbo.ozlabs.org:/home/grog .
receiving incremental file list
grog/
grog/.Xauthority
grog/.bash_history
grog/.bash_profile
grog/.bashrc
grog/.bashrc~
grog/.emacs
grog/.forward
grog/.forward.local
...

That took longer than expected, including a network hiccough, but finally it was there.
And now? Try again! If anything fell through the cracks, it will get picked up next time.
But it picked up some files again and again:
grog/oldphotos/19640401/big/La-Couere-1.jpeg
grog/oldphotos/19640401/big/La-Couere-10.jpeg
grog/oldphotos/19640401/big/La-Couere-2.jpeg
grog/oldphotos/19640401/big/La-Couere-3.jpeg
grog/oldphotos/19640401/big/La-Couere-4.jpeg
grog/oldphotos/19640401/big/La-Couere-5.jpeg
grog/oldphotos/19640401/big/La-Couere-6.jpeg
grog/oldphotos/19640401/big/La-Couere-7.jpeg
grog/oldphotos/19640401/big/La-Couere-8.jpeg
grog/oldphotos/19640401/big/La-Couere-9.jpeg
grog/oldphotos/19640401/big/PCR-1.jpeg
grog/oldphotos/19640401/big/PCR-2.jpeg

That's noteworthy for a number of reasons:
Oh. On the fifth attempt, I saw the modification timestamps: "Aug 19 2372". How did that happen? Some Linux issue? Locally (on eureka) I have:
-rw-r--r-- 1 grog wheel 350,785 6 Jun 2100 La-Couere-1.jpeg
-rw-r--r-- 1 grog wheel 356,694 26 Oct 2009 La-Couere-10.jpeg
-rw-r--r-- 1 grog wheel 435,923 6 Jun 2100 La-Couere-2.jpeg

So rsync is trying again in the hope of achieving the future date that Linux (bilbo) understands and FreeBSD (dereel) doesn't:
=== grog@bilbo (/dev/pts/0) ~/www.lemis.com/grog/Photos/19640401/big 26 -> touch -t 237708191200 La-Couere-1.jpeg
=== grog@bilbo (/dev/pts/0) ~/www.lemis.com/grog/Photos/19640401/big 27 -> ls -l La-Couere-1.jpeg
-rw-r--r-- 1 grog grog 350785 Aug 19 2377 La-Couere-1.jpeg

=== grog@dereel (/dev/pts/2) /src/bilbo/grog/www.lemis.com/grog/Photos/19640401/big 21 -> touch -t 237208191200 La-Couere-1.jpeg
=== grog@dereel (/dev/pts/2) /src/bilbo/grog/www.lemis.com/grog/Photos/19640401/big 22 -> ls -l La-Couere-1.jpeg
-rw-r--r-- 1 grog wheel 350,785 5 Jun 2100 La-Couere-1.jpeg

So it seems that Linux is more future-proof than FreeBSD. I wonder what glitch caused that timestamp in the first place.
While in Ballarat, we bought some sushi, and also went on a vain search for Kirschwasser at Campana's Stockade Cellars, though we did find some other stuff.
Sushi was no problem. Yvonne buys sushi just round the corner in Mair St every couple of months. But this time I looked at the prices, maybe because I had seen a hotel round the corner offering a hamburger and "soft drink" for "$13.9". Clearly I haven't been looking at prices lately. The sushi came to round $35, about double the price of the most expensive food we prepare at home. How prices have changed!
Up this morning with a vague tenderness in my arm where I had the vaccination yesterday, but apart from that there were no unpleasant effects. Yvonne didn't fare as well, feeling somewhat under the weather all day, like last time. But certainly it was bearable.
Spent a little time today examining my new Olympus E-330. How does the sensor compare to modern cameras? How does the E-1 compare? Time for some comparison photos, also including the E-30 and the E-M1 Mark II.
First surprise: the ISO range of the E-1 and the E-30 max out at 3200/36° ISO, but the E-330 only goes to 1600/33°. The E-1 considers both of these settings "ISO BOOST" (with the shouting). OK, take photos at 100/21° and the highest values. For the E-M1 Mark II I did 25000/45° as well.
Reading in the photos from the E-330 took forever. It averaged about 800 kB/s. Why? Oh:
Jul 31 13:43:42 eureka kernel: da4 at umass-sim4 bus 4 scbus7 target 0 lun 0
Jul 31 13:43:42 eureka kernel: da4: <OLYMPUS E-330 1.00> Removable Direct Access SCSI-2 device
Jul 31 13:43:42 eureka kernel: da4: Serial Number B91501815
Jul 31 13:43:42 eureka kernel: da4: 1.000MB/s transfers
Jul 31 13:43:42 eureka kernel: da4: 3831MB (7847280 512 byte sectors: 255H 63S/T 488C)

By comparison, the E-1 is USB 2:
Jul 28 15:32:22 dereel kernel: da0 at umass-sim0 bus 0 scbus3 target 0 lun 0
Jul 28 15:32:22 dereel kernel: da0: <OLYMPUS E-1 1.00> Removable Direct Access SCSI-2 device
Jul 28 15:32:22 dereel kernel: da0: Serial Number 500015490
Jul 28 15:32:22 dereel kernel: da0: 40.000MB/s transfers
Jul 28 15:32:22 dereel kernel: da0: 3831MB (7847280 512 byte sectors)

I wonder why they did that? Deliberate downgrading, like some of the missing features on the E-M5 Mark III?
Then photo processing hell. DxO PhotoLab doesn't want to know about the E-1 and the E-330. Off to use Olympus software, which this year is called Olympus Workspace. There was an update waiting. OK, install that, and get a questionnaire:
Isn't that nice and easy to read? Why do they do that? It's also so clever that it has its own directory tree:
Apart from the fact that I hate this kind of tree-climbing, something very important is missing: network shared file systems such as P:\, where I have my photos. I can't access them with "Workspace"!
Back to dischord, the old Microsoft "Windows" 7 box, which still had a copy of the old, worn-out Olympus Viewer, the predecessor. And yes, it's so old-fashioned that it even allows access to network shares. But how do I use it? Messed around for a while and managed to convert the files, but I have little understanding of what I was doing.
The results were spectacular. Here the E-1 and E-M1 Mark II at 3200/36°:
The trouble is, are they comparable? I don't know my way around the Olympus software well enough to be sure. I should probably repeat the shots and store them as JPEG, so at least they will be on a level playing field.
On IRC today, Juha Kupiainen asked me how I transferred photos from my phone to a Real Computer. That's straightforward enough, as I reported earlier this month: I use WiFi FTP server and wrap it up in a couple of scripts.
Not what Juha can use: he wants to push from his phone over potentially long distances. But it got us in a discussion, and both Peter Jeremy and Daniel O'Connor said that they use syncthing.
What's that? A replacement for the standard utilities, it seems. Installed it on hirse and (since it's not a standard) on dereel. And I couldn't work out how to use it. It seems that it's a web client only, and hirse is called GD5PY7E-VAWQHSW-LQVWROD-ZQ2ROC3-MTA2RTP-GBR7YEP-VEBVX6N-53S36QR, and it allocates all sorts of IP addresses that I don't know:
What is all that stuff, notably the two IP addresses outside my local subnet 192.109.197.0/24? And why is the interface so completely different from the Internet clients that we know and love? Clearly there's a steep learning curve here, and also a question as to the security implications of all these off-site addresses. A good thing that I (apparently) don't need it.